BREAKING NEWS: A man has been viciously assaulted in the car park of Dunnes Stores in Letterkenny.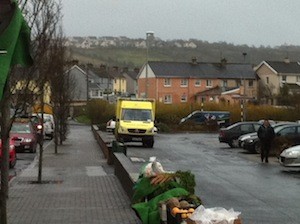 The man was set upon just before 10am this morning.
Stunned passers-by reported they saw two men arguing and one man struck another man.
Other passers-by then reported seeing a man on the ground.
It is reported that the man may have been struck with an iron bar.
An ambulance and a Garda car were soon on the scene.
A man was taken away in the ambulance but it is not believed his injuries are serious.
Donegaldaily.com understands the two men are known to eachother.
The fracas resulted in a heavy build-up of traffic in the area.
One eye-witness told us "There was definitely some kind of fight and one of the men was injured.
"When I came along I saw one man on the ground and another man was leaving the scene.
"Everyone was stopping to look but it looked like nobody wanted to get involved because they were so stunned," she said.
A Garda source confirmed there was a incident and a full investigation is being carried out into the matter and that one man has been arrested and is in custody.
Tags: