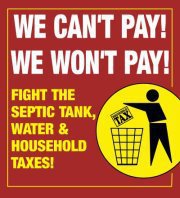 THE 'Cant Pay, Won't Pay' campaign has tonight hit out at Fianna Fail over proposed amendments to the septic tank charges.
In a statement, a spokesman said: "It has come to the attention of the Can't Pay Won't Pay group in Donegal that Senator Brian Ó Domhnaill, speaking in Seanad Éireann, proposed a number of amendments to the Water Services ( Amendment) Bill 2011.
"Apparently one of the amendments being proposed by Senator Ó Domhnaill, if passed, would have meant a €200 levy on every household every seven years.
"This flies in the face of every statement that Fianna Fáil and Senator Ó Domhnaill have been issuing recently on the issue of the septic tank registration charge.
"If it is true that Fianna Fáil are making those proposals, then they have to explain how it is that the model they are proposing would mean people being billed every 7 years, whereas the proposal from government is that every household with a septic tank should pay a one-off registration fee of €50."