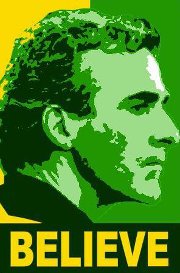 DUBLIN centre back Ger Brennan is the latest GAA figure to join the queue to crticise the Donegal GAA team.
The player goes out of his way to dish out the dirt on Donegal is a new DVD to be released to mark Dublin's All Ireland win.
"For me, it's a game I want to forget as a footballer, because it was awful to play against. It wasn't Gaelic football to me.
"I didn't enjoy it. It wasn't Gaelic football the way it is supposed to be played. I know we are defensive ourselves, but that was something we had never faced before. It was like a different sport to be honest.
"It was like a soccer match. You would hope that this isn't the future. It would ruin the game," he said.
And he claims that players like star forward Michael Murphy are suffering because of Jim McGuinness' new regime.
"It's certainly effective, but it's ugly. When you look at Michael Murphy scoring 1-6 for his club a couple of weeks later in a county final, yet he was only within 30 metres of our goals twice in the game, it beggars belief.
"It's the style they have. It's something they are trying to implement and maybe he's trying to get defence right first. Maybe they'll introduce more attacking football."
Tags: