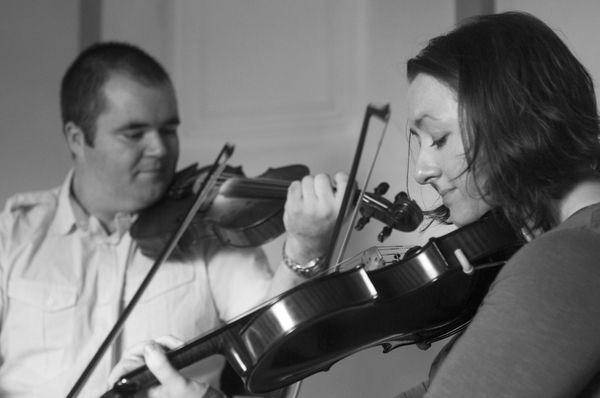 TWO of Donegal's finest fiddlers are getting ready for a special homecoming gig.
Derek McGinley and Tara Connaghan from Meenacharvey (Glencolmcille) and Glenties respectively celebrated the first launch of their new CD at the Ennis Trad Festival on November 13th to a large and attentive audience.
The CD entitled The Far Side of the Glen, featuring just the two fiddles of Derek and Tara, focuses solely on the musical style and repertoire of south west Donegal with the title referring to them living on either side of the scenic valley of Glengesh.
The CD will shortly be launched on home turf with launches in Carrick on Friday December 9th in The Central Bar and Saturday December 10th in the Highlands Hotel, Glenties. (Free entry to both).
The fiddle pair will also perform as special guests with Altan on New Year's night in Ionad Cois Locha during the Frankie Kennedy Winter School.
Tara and Derek, having played together for many years in sessions, on stage and in various projects, have developed a repertoire and form that respects both their styles and this can be clearly heard on their CD. The CD also showcases one of many compositions of Derek which haven't been recorded before.
The launch in Ennis, Co. Clare saw an enormous and unexpected crowd as people travelled from near and far in support of the two musicians. The weekend proved hugely enjoyable and while rambling the streets of Ennis the sound of sweet Donegal fiddling could be heard through the air.
"We'd like to thank everyone who helped out with the making of the CD and those who gave their support at the launch in Ennis. We were overwhelmed by the turnout, said Tara.
Derek added: "We are really looking forward to our hometown gigs. It will be very special."
The Far Side of the Glen CD is available on www.farsideoftheglen.ie and will also be available from record stores and for download on iTunes from early December.
Forthcoming Concert Listings
Friday 9th December 2011 Central Bar, Carrick
Start Time: 9:00 PM
Free entrance
Saturday 10th December 2011
Highlands Hotel, Glenties
Start time: 9pm
Free entrance
Sunday 1st January 2012
As special guests of Altan
Ionad Cois Locha, Dun Luiche as part of the Frankie Kennedy Winter School
Start time 8.30pm
Tickets: €22 from 074 953 2949 or www.entertainment.ie/frankiekennedy
Tags: