A heart-broken family is jumping for joy after being reunited with their pet collie – five days after it fled during a lightning storm.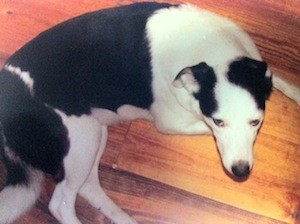 Jessie, a black and white collie, disappeared from its Letterkenny home last Thursday morning after it chewed its way out of its enclosure.
Her heartbroken owners Stephen and Louise McElhinney and their children searched high and low for the dog as well as mounting a poster campaign…aided by donegaldaily.com.
But five days after the dog went missing, the Tullygay family feared the worst.
However there was great news last night when the dog was found near the White Stone monument at Dooen near New Mills – a short distance from the family home.
Stephen, who had contacted Donegaldaily.com to ask readers to look out for Jessie, said the dog is in good health and they are just delighted to have her back.
"It's a great early Christmas present. She must have been terrified after the storm.
"The kids are so delighted and we're all just glad she's back with us now and hasn't been hurt.
"Our family is back together again," he said.
Tags: