UPDATED: The Bishop of Raphoe, Dr Philip Boyce has described as "extraordinary" the fact that no evidence was found of complaints against notorious paedophile priest Eugene Greene.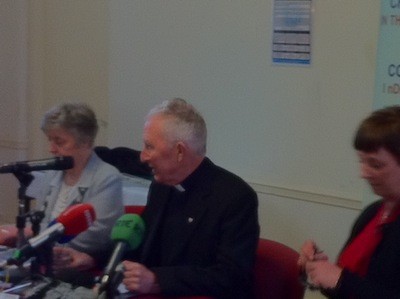 The Bishop was speaking after the publication of the audit into child sex abuse in the Diocese of Raphoe in Co Donegal.
The audit found that there was a total of 52 complaints made against 14 priests.
Bishop Boyce said the first he knew about allegations against notorious paedophile priest Eugene Green, who accounts for up to 26 of the complaints, was in 1997 during the lead-up to the court case against Green in 2000.
He said a father of one victim claimed he had written to former Bishop of Raphoe Dr Seamus Hegarty but no trace of the letter could be found.
"We couldn't find any trace of letter. I expressed my sincere apology to these people and something should have been done but there was no trace of the letter until it came out in the court case. There was no copy of the letter.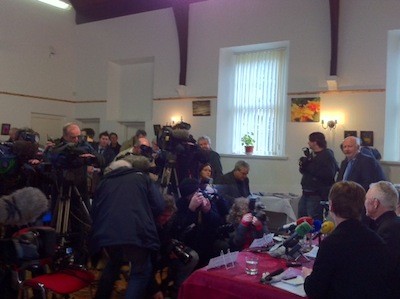 "That is extraordinary. It may reflect on the culture at the time. To my knowledge nothing was destroyed since I came into the Diocese," he said.
He added that Bishop Hearty was quite meticulous and he did not believe he destroyed any letters.
"The letter wasn't there and it's a great disappointment that it wasn't. I am truly sorry for what happened and nothing was done at the time. "It was the 1970s and we weren't aware of the damage that child abuse could do. It makes me all the more determined to make our parishes a safe place for our children," he said.
Bishop Boyce added that there has not been any letter's of complaint from survivors of child sex abuse.
""It is quite incredible but that is the truth," he said.
He said that he would have no problem with a Government enquiry into the Diocese abuse "if that is what is requested."
Chief executive of the National Board Safeguarding Children in the Catholic Church, Ian Elliott, said serious errors of judgement were made by successive bishops in Raphoe when responding to child abuse allegations.
"Too much emphasis was placed on the situation of the accused priest and too little on the needs of their complainants
"Judgements were clouded, due to the presenting problem being for example, alcohol abuse and an inability to hear the concerns about abuse of children, through that presenting problems
"More attention should have been given to ensuring that preventative actions were taken quickly when concerns came to light. This view is based on an assessment of cases reported to the diocese and includes a number which were received during the precious bishops' time in office," he said.
The report added however that it commended Bishop Boyce on his willingness to "learn the painful lessons of the past and to apply them to current practice in the diocese."
The report revealed that of the 14 priests against whom complaints were made, 8 are now "out of Ministry' or have left the priesthood.
Bishop Boyce admitted he had visited some priests in prison but he had also visited many victims in a bid to apologise to all that had happened to them.
Survivor John O'Donnell described the audit as a 'white-wash' and said he knew it would not uncover any new revelations.
He said the numbers of priests and victims uncovered by the audit was completely misleading.
"It's nothing but a white-wash and I do not believe that Bishop Boyce was sincere.
"I now for a fact that there were many, many more victims of priests across Raphoe.
"How can they put a proper figure on it? What about people who were abused who have since gone on to commit suicide. Or what about those in metal homes or have become alcoholics or drug addicts?
"How can they have a proper audit when this is undoubtedly the case?
"They didn't even bother to go an interview the survivors. How can this be a proper report," he added
Another victim, Martin Gallagher from Gorthork, said nothing but a full state investigation will satisfy those whose lives were ruined
"We've been let down again – the only thing that can be done now is a full state investigation into Raphoe.
"It took me ten minutes to read it. There was nothing I it – it was a joke. There was no voice for the victim.
"I was particularly angry at what Bishop Boyce said about survivors. What about those who didn't survive?
"There are so many people in graveyards in Co Donegal who I believe took their own lives as a result of attacks by paedophile priests," he said.
Bishop Boyce revealed that the vast majority of both priests and lay people in the Raphoe Diocese who had been asked to take part in the vetting programme had done so.
"There is about 20 who have not and that is because there is simply a back-log.
"Anybody who does not agree to take part in this vetting programme will be asked to stand aside," he said.
Bishop Boyce concluded that he is now inviting all survivors of clerical child sex abuse to continue to come to him for guidance.
"The sexual abuse of a young person by a member of the clergy in whom that child placed unhesitating trust inflicts a terrible wound in the lives of victims, communities and in the Church.
"It is repugnant and constitutes a stumbling block to a life of faith in those who suffer. It gives scandal to the whole of society and it is rightly regarded as repulsive.
"All I can say again is that I am deeply, deeply sorry," he said.
* The report made a total of 13 recommendations which includes that Bishop Boyce continues to work with the Gardai, the HSE and the Probation Board with regard to the management of all current cases within the Raphoe Diocese.
It also recommends the Child Protection Committee should prepare and publish a further Annual Report on developments within the Diocese.
Ends
Tags: