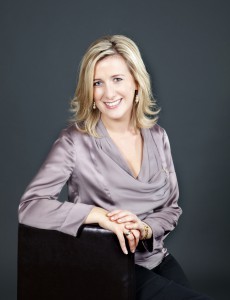 DONEGAL TV sleuth Ciara Doherty might have caused some offence to our northern neighbours (and to quite a few on this side of the Border) in a TV3 show last night.
The 29-year-old from Letterkenny took part in an investigation into cross-Border shopping for groceries.
And while the investigation found that a 300 quid shop in the North saved just four euro – good news for business and jobs here in Donegal – it was some of her descriptions which might not go down too well.
Referring to her shop at Sainsburys in Newry as part of the TV3 Midweek show report, Ciara revealed: "I didn't hear as many Irish accents as you would have done a few years ago."
One donegaldaily.com reader in Derry (originally from Buncrana) asked: "Does that mean locals north of the Border have British accents?"
He added: "The whole Midweek programme portrayed the north as if it was Germany or Outer Mongolia. It really was a Dublin view and we expect more from Ciara. Last time I checked Letterkenny was still 20 minutes from Derry. And yes – 80% of people in Derry and Newry for that matter are IRISH…and guess what…they have IRISH accents too!"
And another reader emailed to say: "Good news that it's just as cheap to shop for groceries south of the Border these days. But 'Irish accent's…really Ciara??? You should know better."
© 2011 donegaldaily.com, all Rights Reserved
The copying, republication or redistribution of donegaldaily.com Content, including by framing or similar means, is expressly prohibited by law.
Follow us on www.twitter.com/donegaldaily
Follow us on www.facebook.com/donegaldaily
Sell anything on www.donegaldailyclassifieds.com
Tags: