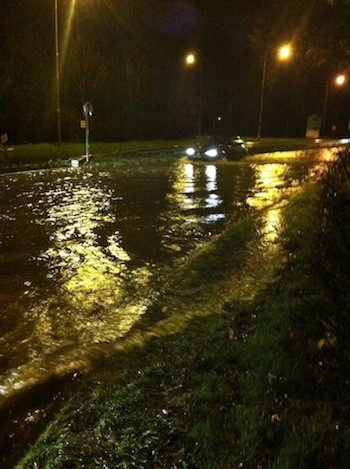 DONEGALDAILY.COM is getting more reports of flooding tonight as heavy sustained downpours pound the county.
Earlier Met Eireann had issued another warning for the potential for 'spot flooding' and a Gale Warning had already been in place.
The heavy rain tonight is falling in higher areas of Donegal as sleet as the chills of December begin to bite.
One motorist emailed us to say that she had been forced to pull over while travelling over the Barnesmore Gap from Donegal Town to Ballybofey because of poor visibility.
"Hailstones were bouncing off my windscreen and it was so heavy I couldn't see in front of me. I pulled over and put on my hazard lights. It was very scary," she said.
There are also reports of large pools of water on several roads in and around Letterkenny (again).
Met Eireann says it will be very unsettled weather continuing and turning colder over the weekend. "There will be further rain or heavy showers at times and often windy periods," said a spokesman.
Once again a number of roads have large amounts of surface water with emails from readers across the county.
It looks like reports from readers of long term forecasts predicting snow for next Monday could prove to be accurate.
Met Eireann says the north west will be hit with very windy conditions on Monday with heavy showers some of which will be "wintry!!!"
However the BBC is predicting very cold temperatures for Sunday.
Meanwhile oil companies are reporting a busy week.
Chris Gallagher from Gallagher Oil told us: "It was quiet for a while there but it has been extremely busy over the past week as people stock up for the cold weather ahead."
Send your updates/pictures to info@donegaldaily.com
© 2011 donegaldaily.com, all Rights Reserved
The copying, republication or redistribution of donegaldaily.com Content, including by framing or similar means, is expressly prohibited by law.
Follow us on www.twitter.com/donegaldaily
Follow us on www.facebook.com/donegaldaily
Sell anything on www.donegaldailyclassifieds.com
Tags: