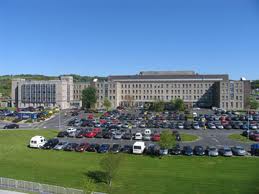 DD EXCLUSIVE: Staff at Letterkenny General Hospital have been told they will not be paid if they can't get to work because of snow this winter.

Staff numbers at the hospital were badly affected by the freezing conditions of the past two winters.
But now management at the hospital have told staff that they can no longer afford for staff to get stranded.
A circular issued to all staff and seen by Donegaldaily.com warned them that if they miss work they will have to take the time missed as "unpaid leave."
The letter, which was signed by General Manager Sean Murphy and Director of Nursing and Midwifery Dr.Anne Flood, said it was essential that a high level of patient care continued.
"Over the past two winters there were periods of heavy snow which affected some staff's ability to attend for work.
"The onus is on staff to attend for work and a full complement of staff is essential to ensure safe patient care can be provided in the hospital.
"Non attendance at work due to weather conditions must be taken as unpaid leave, unless staff can swap shifts directly with another colleague," said the letter to staff.
During last year's bad weather some staff at the hospital were accommodated in both the hospital and at a local hotel.
However stranded staff will not be put up in hotels with the circular warning "Due to the current budgetary position of the hospital, we no longer have this capacity."
Management have also asked staff to prepare themselves for the winter to ensure they can get to work in the hospital.
The letter encourages staff to take the initiative themselves and "to think and plan in advance," during freezing conditions.
"If you can travel, make sure you have taken proper measures to ensure your well-being such as having snow tyres on your car, having warm clothing, carry a hot drink, snow shovel, mobile phone, etc.
"Any measures that can ensure your attendance at work in a safe manner and that will reduce the burden on the hospital finances are welcome," adds the letter.
Tags: