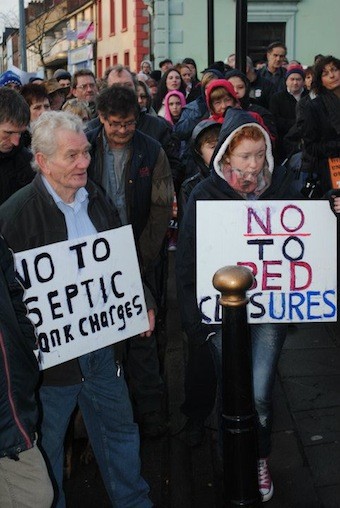 HUNDREDS of people travelled from all over the county today to Buncrana to protest at the ongoing Government austerity programme ahead of this week's budget and heard a local TD talk of the 'empty chairs' at Christmas due to mass emigration.
Donegal North East Sinn Féin TD, Pádraig Mac Lochlainn said that the large turnout sent "a clear message to the three Government Oireachtas members in Donegal to take to their Fine Gael and Labour colleagues in Government; Inishowen and Donegal says no to further cuts and austerity."
Deputy Mac Lochlainn said: "The deep concern in Inishowen and Donegal about further cuts is palpable. Already huge numbers of our workforce are unemployed and thousands of mostly young people have emigrated across the county.
"Many chairs will be empty at the dinner tables of Donegal homes this Christmas.
"In our fully costed pre budget submission, Sinn Féin have proved that there is a better way. We have to stop strangling our own people at every budget to pay the debts of reckless international gamblers."
He went on: "Here in Inishowen, we now hear talk of garda stations closing in Malin and Culdaff, beds being lost at Buncrana Nursing Unit and Carndonagh Community Hospital, and the vital NowDoc service being downgraded. We also have seen funding removed from our schools, student grants slashed and more education costs pushed onto hard pressed families.
"At some stage, this madness has to stop. How much damage will be done to our community, public and physical infrastructure before this Government realise that the well has long since dried up. How much of the life our people will they sqeeze before they stand up against this profound injustice that forces our people to pay for the recklessness and unbridled greed of global capitalism that gambled on private Irish banks like Anglo. All the rules of the game have been torn up. This is sheer madness and not one international economist can understand it.
"You can not grow an economy and create jobs and new taxes while imposing crushing cuts and austerity year after year after year. This approach has failed dramatically yet our Government will stand up and tell the troika of the EU/ ECB/ and IMF that it has to stop. In particular, we have to stand up to the ECB."
He added: "Future generations will ask us what we did about it. Today's protest shows that the people of Inishowen fought back and said no more."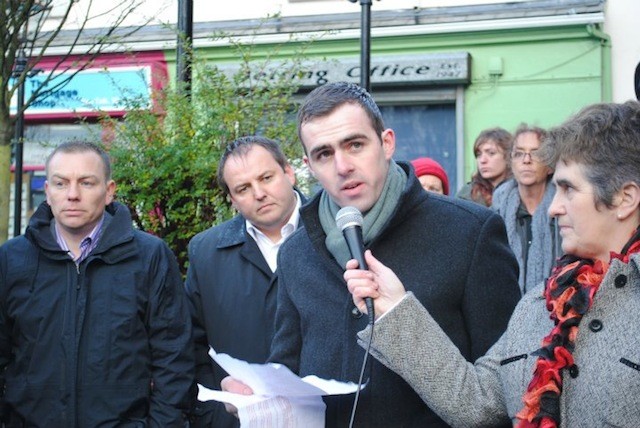 Tags: