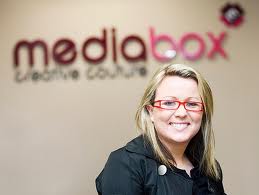 BELOW is Joanne Sweeney-Burke's MediaBox Blog…and according to it, she's off the Apprentice tonight – and due to appear with Anton Savage!
Make up your own minds! We'll all know by 10pm!
Monday Mash Up: Media Box University Goes on Tour & JSB Get's Ready to Meet Anton Savage on TV3
Monday 5th December
With Christmas songs playing in the background and the tea made, it's another busy week at Media Box.  Joanne is off delivering a training course in Public Speaking for the Donegal County Community Forum, while the remainder of the team are executing a series of marketing strategies for Media Box customers.
Over at Brennans Pharmacy they have their Christmas stock in situ and some great value on top fragrance and gift set brands.  Michael Black of Optimal Fitnesss is busy getting his new Personal Fitness Studio ready for his official launch on Wednesday 14th December with the help of the Media Box team.
Taxsave.ie, a brand of Edwin Foley & Co Chartered Accountants, launched their "Be a Robin Hood for your Charity" campaign this week, informing PAYE and self-employed workers of how they can donate to their favourite charity while at the same time saving tax. So log onto www.edwinfoley.ie for more details.
And of course it's Monday again and as always we are hoping that JSB can survive another week in The Apprentice.  It's now week ten and there are just six candidates left in the running to become Bill Cullen's business partner.
We understand tonight's task challenges Team Zest and Team Spirit to make a TV ad for online company justeat.ie who have many clients across Co. Donegal.  There has been much speculation over the weekend as to whether or not JSB will survive another week or finally feel the wrath of Bill Cullen.  Her personal facebook page has been going mad after she posted on Friday night that she would be "packing her bags."
Our sources say that indeed she feels the wrath of Bill, but is it her time to "pack her bags." It seems that Joanne's Certificate in Television doesn't give her much edge in this task but is it the sword that she falls on?
JSB was also busy at the weekend preparing for her impending TV3 appearance with Anton Savage and was styled by Annette in McElhinneys in Ballybofey.  Joanne commented "I'm a proud Donegal woman and will be proud to wear an outfit from McElhinneys, a store that has previously dressed Jackie Lavin and Bill Cullen for The Apprentice series."
So we better get back to work – and don't forget to tun into The Apprentice tonight at the usual time of 9.00pm on TV3. You can catch JSB on her facebok page and twitter to hear more later on tonight.
Until next time , keep running in heels!
The Media Box Team. x
Tags: