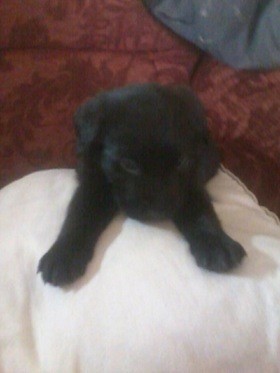 A DELIGHTED Donegal family were today reunited with their missing puppy – thanks to donegaldaily.com.
Guinness, the cross-labrador pup, went missing in Letterkenny last week, leaving three children in tears.
Mum Adele Dempsey, from Glencar, issued an urgent plea for the return of Guinness…given the name because he is black with a little bit of white on his chin!
And today Adele revealed that a local woman had found him and had returned him today after spotting the plea on donegaldaily.com.
"I can't thank you enough," said Adele, whose three children, Marissa, six, Conall, five and one-year-old Aodhan had been in tears for four days.
"Guinness is home! The lady that was looking after him (very well I might add as he's a lot fatter!) has brought him home for us and asked can she keep in contact as her kiddies have also grown attatched to him.
"Aodhan is delighted and Marissa and Conall still dont know he is home as they are at school! I can't wait to see their faces! Thanks donegaldaily for all your help!"
© 2011 donegaldaily.com, all Rights Reserved
The copying, republication or redistribution of donegaldaily.com Content, including by framing or similar means, is expressly prohibited by law.
Follow us on www.twitter.com/donegaldaily
Follow us on www.facebook.com/donegaldaily
Sell anything on www.donegaldailyclassifieds.com
Tags: