A young priest has broken ranks and spoken of his shame at the child sex abuse scandal in the Raphoe Diocese.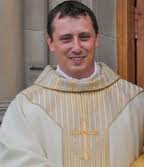 Fr.Damien McGroarty, 29, told shocked mass-goers yesterday how he was scared of being branded a paedophile and wondered what people thought of him whenever he drove past a school.
The young cleric issued the passionate homily from the altar of St Eunan's Cathedral in Letterkenny just days after an audit of the Raphoe Diocese revealed 14 priests had abused 52 young people.
Fr McGroarty's condemnation came as Bishop of Raphoe, Dr.Philip Boyce read a pastoral letter apologising to victims and to the community from the same altar an hour later.
Fr McGroarty said child sexual abuse had been a terrible evil inflicted on children and that those responsible would have to answer for it one day.
On a personal level the young cleric said he was always scared of being branded a paedophile priest because of the actions of other priests.
"These past few years I have always felt self-conscious about my decision to become a priest. Will people ridicule me for becoming a priest? Will I be branded a paedophile priest?
"Even now I am so self-conscious walking down the street…..wondering what are people thinking of m
He added that every time he drove past a school, he wondered what people thought of him.
"I hope and pray that justice is administered by the State and by the Church," he concluded before receiving a huge ovation form the congregation.
In his pastoral letter to the Diocese, which he read out while saying 11.15am mass, Dr.Boyce said a greater awareness of child sexual abuse had now been raised.
"The Raphe Diocese has had a significantly high level of allegations and of priests accused of sexually abusing children.
"We have to say that to our shame.
"Although it was painful, we have to be grateful for the public glare over more than a decade that brought to light and raised awareness of the reality of child sex abuse in the Diocese," he said.
Bishop Boyce said that since taking office in Raphoe 16 years ago all he had experienced was the dedicated work and integrity of the "vast majority of the priests of the Diocese."
"We have all suffered form this painful chapter in our history, but we pray that this awful sin and crime will not continue to afflict us, but that our children will remain unhurt and safe.
"Whatever good we do for them is for the good of all, since the future belongs to them," he said.
Tags: