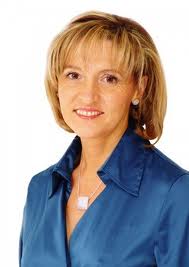 NORTHERN protestant youths walked out of a Donegal dinner event because of the presence of a Sinn Fein member – even though a former loyalist paramilitary helped organise the event!
And even a former garda PJ Hallinan says he was perplexed at the actions of the youths who had just completed a successful cross-Border workshop looking at the world wars.
The walk-out happened at the Inishowen Gateway Hotel – and their representatives later told the News Letter that they walked out because Derry Sinn Fein MLA Martina Anderson had made "an IRA speech."
But PJ Hallinan dismissed the idea that there had been an IRA speech and appeared completely perplexed as to why anyone could have objected to the content of the speech.
"There was nothing in what Martina Anderson said that anyone could have taken exception to," he said.
Around 140 young people were attending the dinner on Saturday night in Buncrana when Mrs Anderson delivered a speech, described by one participant as "glorifying" the IRA's role in the Troubles.
Now it has emerged that no such "IRA speech" took place – and the walk-out was organised in response to a row in Belfast where the Sinn Fein Lord Mayor had refused to give an award to a British Army cadet.
The Inishowen Development Partnership said the initiative was about looking at "Ireland's experience in World War One, and the brotherhood that arose between Irishmen on the Western Front to forge new relationships and new hope for our common future".
In a statement, a Sinn Fein spokesman confirmed Ms Anderson's attendance at the event, saying she had "recalled her experiences of the conflict" – including her period in prison – and talked about communities emerging from conflict and "the need for understanding of others' experiences".
He added: "Unionist/loyalist groups need to realise that if they are going to participate in these cross-community projects they are going to hear opinions and accounts of the conflict that they may not like or agree with.
"But if they expect to hear republicans apologise for their past or to stop being republicans then they are going to be disappointed.
"Unfortunately, rather than be mature about what they heard and participate in debate this group decided to leave the event.
"This is unfortunate as Martina would have relished the debate."
© 2011 donegaldaily.com, all Rights Reserved
The copying, republication or redistribution of donegaldaily.com Content, including by framing or similar means, is expressly prohibited by law.
Follow us on www.twitter.com/donegaldaily
Follow us on www.facebook.com/donegaldaily
Sell anything on www.donegaldailyclassifieds.com
Tags: