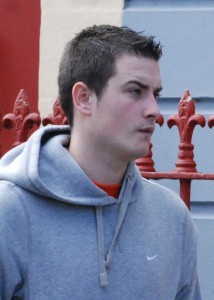 Two young men will appear in court today charged with having petrol bombs intending to use them to do damage in Co Donegal.
Darren Grant, 21 (pictured right) and Damian Carlin, 18, had previously been charged with having the devices at Figary, Fahan on July 20th last.
Grant, of Park Mor, Buncrana and Carlin of Keelogs, Linsfort, Buncrana made no reply when charged under Section of the Criminal Justice Act at a previous siting of the court.
Garda Inspector David Murphy had said he was seeking a long adjournment to allow the State to investigate all matters.
"This is a long and detailed investigation," he said.
Both men will appear again today before Buncrana District Court when another adjournment in the case is expected.
Tags: