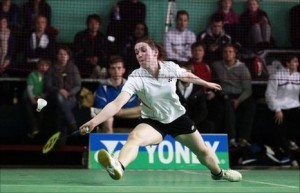 RAPHOE'S Chloe Magee has sealed a place at the London Olympics making it through to the quarter-finals of the Irish Championships in Lisburn last night.
The 23-year-old badminton star won her two matches to seal the last eight place she needed to confirm a place at the Games.
Magee, who competed at the Beijing Games three years ago, will be officially confirmed in the New Year but yesterday's results she is a cert for the team.
"I'm just delighted," said Chloe.
"That's it sealed and delivered now.
"I have had 10 good tournaments now so it'll only be an injury now that will stop me."
Magee began her Irish championships with a comfortable 21-12, 21-13 win over Barbara Matias of France. before defeating fancied Dutch competitor Judith Meulenjijks 13-21, 21-11, 20-11.
Tags: