A huge attendance of almost 800 people braved the elements last night to attend a public meeting to keep Lifford Community Hospital open.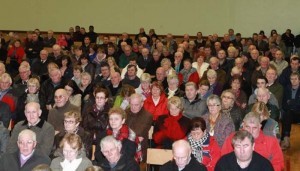 The meeting, which took place at the Lifford Community Centre, was held to show the massive pubic opposition there is in Donegal to the closure of the unit.
The meeting was held by almost all major public representatives including Deputies Dinny McGinley, Thomas Pringle, Pearse Doherty, Charlie McConlogue and Senators Jimmy Harte and Brian O'Domhnaill.
There were also a number of county councilors present including Gerry Crawford, Cora Harvey Martin Harley and Frank McBrearty.
All public representatives spoke about the need for a community hospital locally and the unique services it offered.
There was also a questions and answers session at the end of the meeting to discuss ways of moving forward with a consolidated plan to save the hospital.
Among one of the suggestions was that TDs from Donegal South West including Thomas Pringle, Pearse Doherty and Junior Minister Dinny McGinley meet with Health Minister James Reilly to discuss the proposed closure.
One person at the meeting said they had never seen such a well-attended and vocal meting in Lifford in decades.
"This is something that has really touched the hearts of people in Lifford and a lot further afield.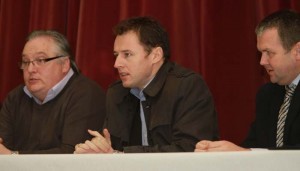 "There were people there last night from across the county as far away as Inishowen and even Frosses showing their solidarity and support.
"This is only the start of this fight for the people that were there last night.
"There may have been up to 800 there but there were hundreds of others on Facebook sending messages of support.
"The people of the Finn Valley and across Donegal will not allow Lifford Community Hospital to close down," he said.
* ALL PICTURES BY KIND PERMISSION OF NEWSPIXIRL
Tags: