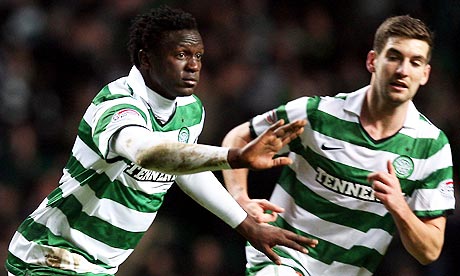 FROM NEIL DOHERTY AT CELTIC PARK: AROUND 300 Donegal fans of the Hoops made the long trek to Glasgow today – and saw Celtic overcome a stubborn Heart side by a single goal.
And they would have seen one of the most nerve-wracking ends to a game here in a long time, when Hoops keeper Fraser Foster saving a last-minute penalty to maintain the 1-0 win, three points and a gap closed on Rangers who had beaten Hibs 2-0 in Edinburgh earlier in the day.
Celtic manager Neil Lennon singled out the contribution of goalscorer Victor Wanyama in the 1-0 victory.
The Kenyan's 72nd-minute wondergoal added to his growing reputation as a passer, defender and all-round reader of the game. He went on a rare solo run and fired in a stunning goal from 25 yards.
Lucky? Genius? Who cares?
"It was a brilliant goal," said Neil Lennon afterwards.. "He hasn't been showing that.
"His shooting is normally as bad as mine, but I'm delighted. It was a great finish and I thought we thoroughly deserved the win."
Goalkeeper Fraser Forster then pushed away an Eggert Jonsson's penalty with 60 seconds remaining to secure the three points.
"We were the dominant tream, and it's always a worry at 1-0, but I thought we dominated the game for long periods," said Lennon.
"Hearts made it difficult – they packed the midfield and I thought Marius Zaliuskas had a great game in the midfield.
"They fought for everything and credit to them for what they're going through (most players haven't been paid for more than a month).
"They showed admirable fortitude against us, but I thought we played well.
"It wasn't vintage Celtic, but it was gutsy and there was some good performances."
Lennon was also puzzled as to how referee Calum Murray arrived by his decision to award a late penalty for Hearts, as television replays were inconclusive over the incident between Wanyama and Maruis Zaliukas that determined the spot-kick.
"The ref is saying it's a handball, but I've seen it again," said Lennon.
"Wanyama went up for a header with his arms, but he hasn't touched it with his hands – Zaliuskas headed it, so I don't know how Calum had a good view of it because he couldn't see it from that angle.
"If you look where the ball has ended up, it's impossible for him to hit it with his hand and direct it that way.
"But Fraser was due a save and it was a magnificent save.
"We were patient and we got a wonder goal and the three points, which I felt was thoroughly deserved."
ENDS
Tags: