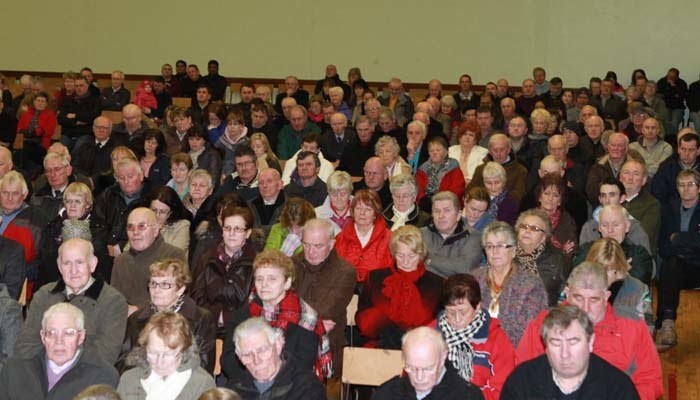 On a cold frosty night in Lifford, up to 1,000 people, including staff, Local Councillors, TD's, Doctors,crowded into the Community Centre, to hear speaker after speaker talk about how they wanted to preserve the status of Lifford Community Hospital.
THREE main Points according to the HSE, were brought to the crowds attention.
THERE WERE AS FOLLOWS –
1. The Hiqa report on the existing building.
2. The Levels of Respite/Pallitive care Offered to Patients.
3. Capital Funding.
On Point 1, The HIQA report was said to have been Favourable towards Lifford Community Hospital.
On Point 2, The Levels Of Pallitive Care, Even Dr.James O Reilly The Minister For Health, had said that they are
"More Than Adequate, Given The Small Number Of Patients In Lifford Hospital"
The Sticking Point was on Point 3, The Capital Funding.
Government Minister present, Dinny McGinley TD, had a meeting with The minister Recently, where he asked about funding for Community Hospitals, and the Minister Replied "The Money just is not there – given the circumstances we find ourselves in"
The First Speaker Of The Night was Fr.Edward Kilpatrick Parish Priest of Murlog, where he spoke about the Patients that he talks to on a regular basis, losing their homes, if Lifford Hospital Closes.
He spoke to the large crowd of it being the same as
"Being Evicted from their Homes and being put into nursing Homes that No-One wanted"
Local Doctor, Martin Coyne, Spoke about the matter being  "No Longer a Political matter"  and the closure of lifford hospital  "had gone beyond a Localised H.S.E. matter".
He handed out 200 envelopes addressed to the Regional Director Of The HSE in Limerick, which he asked people to fill with a personal story about their 1st hand experience with Lifford Community Hospital.
HSE West Regional Health Forum Member, Cllr. Frank McBrearty spoke of the Worst Case Senario, that being if Lifford Hospital does NOT Survive the Closure.
He also spoke about having the option of going down the legal route.
"If the Ministers dont listen, to what the people of this community have to say, then we should look at the case brought by the three old ladies in Abbeyleix, bringing their case to the high court"
All the Speakers which included, former County Mayor, Cllr. Cora Harvey, Cllr.Martin Harley, Senator Brian O Domhnaill, and local councillor Gerry Grawford spoke in depth about the level of care that the patients get in Lifford Community Hospital and backed the Saved Lifford Hospital Campaign.
Cllr. Crawford also produced a letter from the ambulance service, which he is a member, which he read to the crowd, which stated that lifford and Stranorlar Ambulance Stations, were to be amalgamated, should Lifford Community Hospiatal Close.
Deputy Pearse Doherty TD, spoke about his time with this campaign, and that "it's not the first time a government attempted to close this hospital."
"We didn't let them close it that time, and we're not going to let them close it this time and we just need to remember that" to which he got a rousing applause.
Deputy Thomas Pringle TD, spoke about his time with the Save Lifford Hospital Group, and that he has made several representations on their behalf to the Minister for Health.
He said "I'm standing fully behind this campaign to retain the status of Lifford Community Hospital, and I'll do my best to see that it does NOT close"
Giving a Save Lifford Hospital Facebook report, Local Man, Paul McClay, said that there were over 4,440 friends that were commited to retain this "Institution" in Lifford.
He went on Further to say that there were over 8,000 signatures on the petition, and he went on to read out a few heart wrenching testimonials that ordinary people had left on the facebook page.
He said in a personal capacity "People of Lifford have said in the past, that the Dublin Government would Take the Bridge out of Lifford if they could find a suitable location elsewhere" to which he got the biggest cheer of the evening.
A Question & Answer session followed the public speakers.
One member of the audience asked "would the 3 TD's present, give an undertaking to make a deputation to the minister for health, and, not to leave, untill they get in writing, that lifford hospital was going to be saved" to which Pearse Doherty, Dinny McGinley, and Thomas Pringle agreed.
Deputy Doherty added in reply that he had tabled a question about this Matter in the Ministers question time in Dail Eireann.
Deputy McGinley when asked Straight out "is lifford hospital going to be saved ?"
The answer was  "The reply I got from the Minister for Health is that I can give no guarantees that Lifford Community Hospital would not close"
Deputy Mc Ginley stated that  "I am 100% behind this campaign to retain the status of Lifford Hospital, i dont want it to close, and neither do you the community"
So after last night's public meeting, the future of Lifford Community Hospital is still uncertain.
The Save Lifford Hospital Group have said that if the hospital continues to come under threat, they'll be prepared to go to the streets and protest again, but they have several options open to them in the mean time.