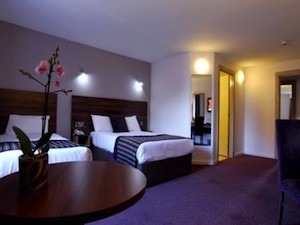 IT'S BIG QUIZ TIME – and it's time for another chance you to win BIG with donegaldaily.com.
Thanks to our friends at Belfast's lovely Jurys Hotel, we have another two-night break as a prize with breakfast on both mornings and one evening meal. And if you want to bring two children, they can stay for FREE*.
The break at Belfast's Jury's Hotel is our small way of saying thank you again to our tens of thousands of loyal readers who are now making Donegaldaily.com part of your daily routine.
Each Wednesday, we'll bring you 25 Prize Quiz questions.
You will have until the following Monday at 6pm to come up with answers and then simply email your entry to info@donegaldaily.com along with your name, town/village/townland where you live and a contact telephone number.
We will also have a variety of prizes to give away for the quiz winners so watch this space and get quizzing!
This week's prize: A two night break with breakfast and dinner on one evening for two adults at the fabulous Jury's Hotel right in the centre of Belfast. If you want to bring two children with you – they can stay absolutely free* in one Jury's superb family rooms. (*additional charges for breakfast).
Jurys is open this Christmas! For more on Jurys Inn Belfast where deals start at £39 bed & full breakfast per room per night (subject to availability) go to http://belfasthotels.jurysinns.com. Rate available on selected dates between 18th December 2011 – 8th January 2012. (Please note limited menu on Christmas Eve & Christmas Day.)
The prize is subject to availability. Our quiz rules are simple. The winner will be drawn from correct entries. No cash alternative. Editor's decision on answers and the draw winner is final. The competition is free to enter and entries should be emailed by next Monday, December 12th, at 6pm. We will have another great quiz and a great prize next Wednesday.
So here you go with our brain-teasing questions: And good luck – send your entry to info@donegaldaily.com along with your name, town where you live and a contact telephone number.
What class of animals can live both in and out of water?
In which U.S. state is Las Vegas?
Prémaman at Letterkenny Retail Park have a 3 for 2 sale on what this week?
Which tennis tropy is nicknamed 'Dwight's Little Pot'?
What name is given to the breakfast dish of hard boiled eggs and flaked fish?
What is the price of the new Signature Sandwich in Kernan's Diner, Newtowncunningham?
What ground is the home of English Rugby Union?
Which greenhouse gas is absorbed by trees?
Afrikaans is derived from which European language?
What is the price of the Special Christmas Offer at Pearson Foods?
In which century was the Black Death?
How many moons orbit the planet Mars?
Which John Steinbeck novel has the characters George & Lennie?
Which band won the Mercury Music Prize in 2004 for their self-titled debut album?
What type of reference book was compiled by Noah Webster?
What is the lowest rate of Car Finance available at Highland Motors, Letterkenny?
Which space shuttle crashed soon after lift-off in 1986?
Who co-wrote the scripts for Fawlty Towers?
Which song's first 6 words are:'Go on, go on leave me'?
From which language does the word 'Ombudsman' come?
Brontophobia is the fear of what?
Who played Eliza Dolittle in My Fair Lady?
What is the price range of the Gift Vouchers available at Evolve Menswear, Letterkenny? (Min. to Max.)
What type of optical device was invented by Roger Bacon in 1250?
What was the secret identity of shy teenager Peter Parker?
Tags: