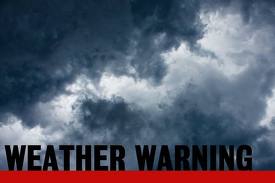 MET Eireann has announced another severe weather warning, predicting more storms for this week – as sleet and ice brought renewed hazards to motorists tonight.
And Donegal could be battered by the sort of gales which brought Scotland to a standstill last week.
A low depression over the Atlantic is "bigger and badder" that the storm which skirted across Donegal last Thursday and which saw winds at Malin Head of an astonishing 160km/hr.
Gardai have warned that slush on the Barnesmore Gap this evening is causing a hazard for motorists.
There was also sleet and hail in many other parts of the county – with temperatures dropping rapidly below zero, this could cause more havoc on the roads overnight.
"Motorists are advised to take extreme care on the roads tonight and tomorrow," said a Garda spokesman.
Met Eireann's Weather Warning issued this evening includes more predictions for snow.
It says: "The weather in the coming week will be very windy for a lot of the time with some stormy episodes expected. At the moment, later Tuesday or Wednesday and Thursday night/Friday look to be especially at risk.
"Some falls of sleet or snow will occur at times also especially in the North and West.
"There is also the risk of some flooding especially along the Atlantic sea board where there will be very high seas and swell coinciding with high tides."
© 2011 donegaldaily.com, all Rights Reserved
The copying, republication or redistribution of donegaldaily.com Content, including by framing or similar means, is expressly prohibited by law.
Follow us on www.twitter.com/donegaldaily
Follow us on www.facebook.com/donegaldaily
Sell anything on www.donegaldailyclassifieds.com
Tags: