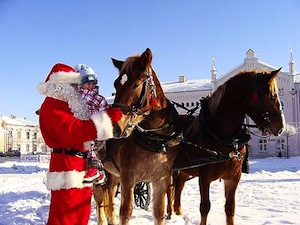 UPDATED: RTE'S Met Eireann forecast has ruled out a white Christmas – but there will be snow and ice this weekend, making road conditions dangerous again.
And while the weekend will be bitterly cold with overnight frosts and some snow, much milder weather is on the way from next Tuesday.
"We are predicting temperatures of around 10C for Christmas Day," said a Met Eireann spokeswoman.
Let's hope she's right!
The news will come as a huge relief to businesses and people organising Christmas events and concerts as well as to ordinary workers.
Last year was a disaster for many retailers and hotels as mass cancellations of events like Christmas parties took place.
We still have to get through the next few days however.
Temperatures drop to -5C in many inland areas at night with ice on many roads around County Donegal by dawn.
Today will be "very cold and frosty with sunny spells and scattered wintry showers of hail, sleet and snow but the showers will turn to rain or hail in the afternoon and become more confined to western and northwestern counties."
Further wintry showers are forecast for Friday night, Saturday and Sunday.
© 2011 donegaldaily.com, all Rights Reserved
The copying, republication or redistribution of donegaldaily.com Content, including by framing or similar means, is expressly prohibited by law.
Follow us on www.twitter.com/donegaldaily
Follow us on www.facebook.com/donegaldaily
Sell anything on www.donegaldailyclassifieds.com
Tags: