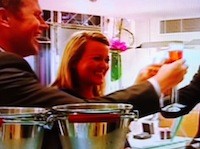 DONEGAL business woman Joanne Sweeney-Burke failed to win the The Apprentice tonight – but can keep her head held high!
Friends and fans gathered at An Grianan Theatre in Letterkenny to watch the Downings mum-of-two on TV3 compete in the final of the show.
Joanne got a tough grilling in the final show, questioned about how she could commit to expanding her MediaBox PR business to Dublin.
She was forced to remember the flight times for the Dublin-Donegal route.
But she couldn't name the news or business editors of several national newspapers and there was a typo in her CV – referring to pubic relations instead of public relations.
However she did give a good presentation on her business.
She got a huge round of applause – with some members of the audience in tears having learned how Joanne had built her business from scratch without any investment or an overdraft.
Tonight Joanne told donegaldaily.com: "I'm over the moon – and it's been tough keeping this secret for several weeks.
"I want to thank everyone in Co Donegal who have supported me through thick and thin, not least my husband and two children."
The donegaldaily.com columnist (she didn't file today!!!) added: "I had a great experience and loved every minute of it."
Bill told her living in Co Donegal worked against her, adding as her fired Joanne: "If this was a traditional series of The Apprentice you would have won hands down."
Joanne finished third – Bill chose Eugene as the next Apprentice, and will be investing in his auction house business.
At the aftershow, Joanne said she had been emotional.
"It had been tough, but I missed the female company. I was genuinely lonely," she admitted.
© 2011 donegaldaily.com, all Rights Reserved
The copying, republication or redistribution of donegaldaily.com Content, including by framing or similar means, is expressly prohibited by law.
Follow us on www.twitter.com/donegaldaily
Follow us on www.facebook.com/donegaldaily
Sell anything on www.donegaldailyclassifieds.com
Tags: