The Media Box office is without it's MD today as she makes the journey to Dublin for The Apprentice 2011 Final Showdown.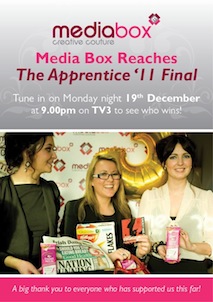 Today is a very important day for Media Box. We, as a team, have reached the final of The Apprentice and while JSB has lead from the front, it has been very much a team effort.
Bill Cullen will finally say those famous words "You're Hired" tonight and if he decides to hire Joanne Sweeney-Burke, who has the best record of this year's The Apprentice (she won 8 out of 11 tasks) then Bill will also walk away owning 50% of Media Box.
According to the national press Joanne is the bookies favourite to win!
A special screening for JSB supporters is taking place at An Grianán Theatre tonight. Doors open at 8.00pm and the Final takes place at 9.00pm. So do go along and support JSB if you can.
Before the Media Box office closes up for Christmas this Friday we are busy working on a range of client accounts. We are taking an extended Christmas break this year as it's been a busy year for all of us.
So our offices will close at 1.30pm on Friday 23rd December and we will re-open on Monday 9th January 2011 at 9.00am.
We will also take a wee breaking from blogging and posting and tweeting – so if you don't hear from us it means we are totally relaxing and getting our energy back for what will be another big year for Media Box in 2012!
So until next time…..keeping running in heels!
The Media Box Team. x
Tags: