Donegal is in full festive flow.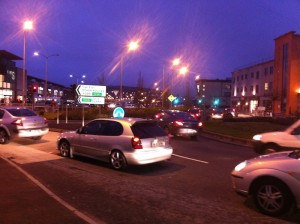 Reports this afternoon say that there are now tailbacks and busy footfall as people finally get out shopping.
Many towns including Letterkenny, Buncrana, Donegal Town and Ballyshannon have reported busy trading across stores.
And with three full shopping days left, retailers are hopeful they can make the best of the remainder of the Christmas season.
Many shops say they are holding their own and have put it down to a number of factors including the mild weather and people shopping locally to support local jobs.
Toni Forrester, CEO of Letterkenny Chamber told Donegaldaily.com that they are on course to sell a record number of Shop LK Vouchers – perhaps reaching an impressive €175,000.
Ms Forrester said things are beginning to look up and she thinks people are going to spend a lot more in the coming days.
"We are shopping locally and the weather has certainly helped. I think there is a lot of pride that and people realise that we have to support our own.
"People realise the choice that Letterkenny is giving shoppers and there are a lot of bargains out there now.
"I think we are going to have a better than average Christmas compared to the last couple of years and hopefully that will steady our traders throughout the year ahead," she said.
The Letterkenny Chamber boss said she had one piece of advice for a certain shopper who traditionally left it until the last minute to go shopping.
"I would ask boyfriends and husbands not to leave it until the last minute on Christmas Eve.
"It's the one time of year to let ladies see how much they are appreciated.
"They will be doing themselves a lot of favours by getting to the shops earlier and getting that special gift and also helping the local economy.," she smiled.
* Meanwhile local shoppers have even more reason to stay at home after EUR/GBP traded over £1.20 today for the first time since September 2010 today. It means that Northern Ireland shoppers will be coming out here in their droves – and they're always very welcome!
Tags: