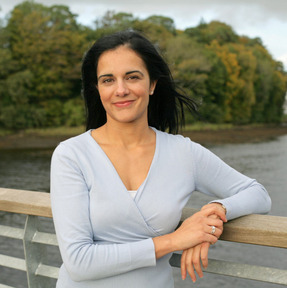 SHE may have gone off to the Silicon Valley to start her latest venture but Jenni Timony didn't forget her roots – and today announced ten new jobs for Donegal Town.
Jenni is the brains behind frankley.com, a convenient underwear-by-subscription start-up that delivers underwear to families across America.
Born of an Irish father and Indian mother, Jenni Timony grew up in Donegal before emigrating with her family to Australia and returning to Ireland when she was 18.
Instead of waiting around for the Department of Education to recognise her Australian school results and allow her to pursue her chosen business degree, Timony just went straight into business at 19 years of age.
Her first venture, Doolittles, began as a coffee shop and grew into a sandwich company supplying packaged sandwiches to Aldi and Topaz stores across Ireland and she featured in the Ernst & Young Entrepreneur of the Year Awards 2007. She has also worked as a mentor on Jerry Kennelly's Endeavour programme.
Her latest venture, Frankley.com, is what Timony describes as a product-as-a-service company that is at the spearhead of an emerging underwear-by-subscription trend that is beginning to boom in the US.
She lives in Donegal town but spends a week per month in San Francisco.
The company has recently taken on €300,000 in private investment from Irish investors.
"The key to what Frankley.com is about is supply chain," Timony explained. "We've created a brand and a product around what allows families across America to order underwear. It's a subscription service aimed at the 29-to-39-year-old working mom who is time poor and would benefit from this service.
"The customers simply go to the site, pick their items and what frequency of delivery they need – every two months, quarterly or half yearly – and the shipment will be delivered within three days of their order. The customers only pay as we ship so it's flexible."
She's delighted with the announcement of ten new jobs in Donegal Town.
And so is local Minister Dinny McGinley who said: "This government is committed to creating as many jobs as possible. Jobs are the lifeblood of any community and society, and I am delighted that these high level jobs are coming to Donegal."
Tags: