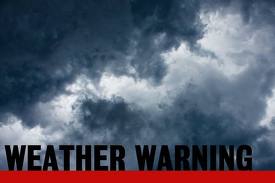 GUSTS of up to 140km/hr and driving rain are making driving on Donegal's roads extremely dangerous tonight.
Many of the county's main routes are covered in pools of water and it is particularly bad on the road from Ballyshannon to Donegal town to Ballybofey.
There are also problems with excess water on several other main routes.
Gardai and the Road Safety Authority are again appealing for drivers to slow down.
The high winds are to continue overnight and through Thursday.
"The winds will die down around teatime," said a Met Eireann spokesman.
The Harry Blaney bridge is expected to remain closed.
One motorist who drove from Donegal Town to Bundoran earlier said: "People are still driving too fast. It is extremely windy and there are huge pools of water in places which is making driving very difficult. People need to slow down."
© 2011 donegaldaily.com, all Rights Reserved
The copying, republication or redistribution of donegaldaily.com Content, including by framing or similar means, is expressly prohibited by law.
Follow us on www.twitter.com/donegaldaily
Follow us on www.facebook.com/donegaldaily
Sell anything on www.donegaldailyclassifieds.com
Tags: