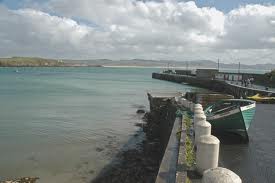 THE man injured in a freak accident in Downings last weekend has been released from hospital
Patrick McGeever from Carrigart was unloading a crabbing boat when the incident occurred during high winds on St Stephen's Day.
The truck door which the injured him blew of its hinges and struck Mr McGeever.
It threw him more than 40 feet down onto the deck of the boat which was being unloaded leaving him unconscious.
Mr McGeever was taken manually form the boat to the local GAA pitch where he was then transferred by helicopter to Letterkenny General Hospital.
After being treated for his injuries, he has been allowed to return home to recuperate.
Tags: