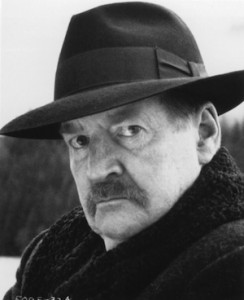 The wife of the late Donegal actor Ray McAnally has admitted she loved him until the day he died – even though they split more than 10 years earlier.
In a TG4 documentary on his life, his son – RTE star Aonghus McAnally – reveals how his dad gave his great screen performances at the end of his life when his private life was in turmoil.
McAnally had separated from his wife Ronnie Masterson and was battling heart problems when he played his award-winning roles in My Left Foot and The Mission.
McAnally had a long-running romantic relationship with Irish actress Britta Smith and they shared a cottage in Wicklow. However, when he died suddenly she did not attend his funeral.
Britta Smith later took part in a celebrated arts documentary Black Tears, made just months before her own death in 2008, in which she was seen sobbing uncontrollably.
And now in this documentary, M'athair, the actor's widow Ronnie said she still thinks about him every day.
She said: "We were much happier once we separated. We remained married. Once you love it is forever.
"I had to say to him once: 'Ray, your 100 per cent and my 100 per cent are different. You have yours and I'll have mine'."
The character actor was at the height of his extraordinary career when he died suddenly of a massive heart attack in 1989 at the age of 63.
Despite having a bypass operation for his heart problems in his 50s, McAnally ignored warnings to slow down. But the wife of one of our greatest characters said that was the way he wanted to live his life.
She said: "I remember a saying he had — 'it's better to burn out than rust out' and that's what he did.
"I think about him every day. I say a prayer for him in the morning and the night."
In his TG4 documentary, his youngest son Aonghus describes how his father's rising star first in TV roles in the Seventies and later in movies played havoc with their family life.
"When my dad was acting in England the family remained at home. I remember many nights kissing a photo of him goodnight because we hadn't seen him in weeks," says Aonghus.
"It was a lonely and hard time for my mother and it was around this time that their marriage came under great strain. Something had to give.
"Throughout the Sixties and into the early Seventies my father spent more time abroad than he did at home.
"He focused his attention on his career while his family life began to unravel," admits Aonghus.
"The end of my parents' marriage was difficult for us all and for a long time I was angry at my father.
"Paradoxically just as his home life was falling apart and he had suffered heart problems leading to bypass surgery his career entered a new and exciting phase.
"Film directors finally started to realise his potential and after almost 40 year of acting he suddenly found himself in great demand on the big screen."
Aonghus said his father ignored pleas from him to look after his health. "As he entered his 60s his career was never better but as he focused on his career he neglected his health," he says in the documentary.
"Whenever I spoke to him during this period we always spoke about his heart and how he needed to slow down but Dad being Dad would know better and do the complete opposite."
He said he felt very distant from his father in the Eighties when he was at the zenith of his career.
He said: "We were on the periphery. At the time of my father's death he had separated from my mother and was living a new life and had a new relationship.
"It was a busy time in his life and I didn't see much of him. We remained friendly but distant."
He said he decided to retrace his father's life more than 20 years after his death to get to know him once again.
He said: "Over 20 years since my father's death I found myself wondering about him a lot and wondering what kind of relationship we would have had if he hadn't passed away so unexpectedly.
"I decided to retrace his life to find out what sort of a man he really was to allow me to reconnect with him all over again."
At the end of the documentary, he said his mother Ronnie always loved his father despite the breakdown of their marriage.
Aonghus said: "I don't know if I will ever fully understand what drove my father.
"He was a very complicated man, full of extremities and was both a saint and a sinner.
"In many ways I am like him but I am also like my mother.
"She loved him always and would never allow a bad word be said about him and I feel the same. At the end of the day he was my father and I loved him and I still do."
'Ray McAnally — M'athair' will be shown tomorrow, Tuesday January 4 on TG4 at 9.30pm.
Tags: