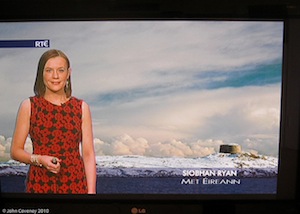 UPDATED: CLIMATE change could have caused winds of more than 170km/hr in Co Donegal yesterday – as ESB still tries to return power to homes in Buncrana and Carndonagh
A weather pattern known as 'Sting Jet' – where cold air meets warm air high in the sky – is being blamed for the winds of 105mph or 91 knots.
Forecaster Siobhán Ryan said the hurricane force winds recorded at Malin Head are extremely rare.
She said the "Sting Jet" – a rarely occurring surge of high-momentum, high-energy air which appears like a curling scorpion's tail on weather maps. Scientists believe this will happen more often due to global warning.
"We have seen them before but the are very unusual over Ireland. We are almost certain that a 'sting jet' was responsible for these winds," said Ms Ryan.
"We have been in touch with our counterparts in Britain and they also suspect that it was a sting jet and are currently viewing data on the incident," she added.
The strong winds eased last night but they will pick up again this afternoon. However they will not be as strong as yesterday but they will last for about 18 hours and could reach speeds of 90-120km/h in some areas.
Just 120 homes were still without electricity today after storm-force winds battered the country.
ESB said engineers have managed to return power to almost 15,000 homes, but small pockets remain cut off, with Scariff in Co Clare, Carndonagh and Buncrana in Co Donegal, and Bagenalstown in Co Carlow worst-affected.
Elsewhere, Eircom is continuing to fix more than 5,000 faults reported on its telecommunications network.
ESB spokesman Brian Montayne warned that some households may experience short power disruptions throughout the day as crews work to repair some faults which were temporarily fixed yesterday.
"We are expecting more winds today but not like yesterday," he said.
"It is important to get these repairs right so we ask customers to bear with us."
Met Éireann has forecast gales during the day, with strong gale- force winds in the north, while outbreaks of rain over the north-west will spread to other areas and turn heavy.
Motorists are also being warned to take extra care during high winds.
Harry Blaney Bridge in Fanad is open to cars but is expected to remain closed to high-sided vehicles, caravans and motorcycles until later today due to strong winds.
An Garda Síochána and the Road Safety Authority have urged motorists to take care on the roads while the windy conditions persist.
Road Safety Authority chief executive Noel Brett said: "I would ask each and every one of you to allow extra time to reach your destination, keep a safe distance from the vehicle in front and adjust your speed in windy or wet conditions."
© 2011 donegaldaily.com, all Rights Reserved
The copying, republication or redistribution of donegaldaily.com Content, including by framing or similar means, is expressly prohibited by law.
Follow us on www.twitter.com/donegaldaily
Follow us on www.facebook.com/donegaldaily
Sell anything on www.donegaldailyclassifieds.com
Tags: