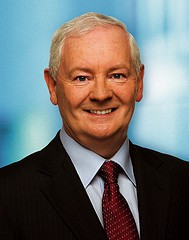 MINISTER Dinny McGinley is under fire from Irish language groups after taking an axe to funding.
Groups have called on Donegal South West TD to abandon proposals to merge the functions of the Language Commissioner with the Office of the Ombudsman.
And sources have revealed that a massive €1.6M funding to the newspaper Gaelsceal – which sells just 1,000 copies a week – may also be axed after a value-for-money review found the costs "outrageous." The paper sells just a handful of copies in Donegal each week.
Deputy McGinley scrapped the Coimisinéir Teanga in November – merging the job with the Ombudsman.
Language groups say merging the two institutions could actually cost more money than it would save, and pointed out that the current commissioner Seán Ó Cuirreáin has been appointed until 2016.
His tenure means the government could have to buy him out of his contract.
"Indeed, An Bord Snip Nua when it looked at the office identified no efficiencies to be made and made no recommendation to alter the status of the office of the language commissioner as an independent office," the group said.
They also pointed to the fact that all political parties had backed the 20-year strategy for the Irish language, laid down by the previous government in 2010, and that closing the commissioner's office would "undermine the strategy and goodwill behind it".
The letter is signed by representatives from Údarás na Gaeltachta, Seachtain na Gaeilge, Conradh na Gaeilge, Oireachtas na Gaeilge, Comhaltas, students' union representatives and legal figures.
But sources close to Deputy McGinley told donegaldaily that "the days of blank cheques for the Irish language are over".
The source went on: "We will check how every cent is spent. Just look at what Foras na Gaeilge has done with the newspaper Gaelsceal – they are giving it €10,000 a week to sell just 1,000 newspapers. It's madness. The taxpayer is paying €10 for every copy.
"The Irish language gravy train has hit the buffers. The spending of every cent will be monitored from now on."
Tags: