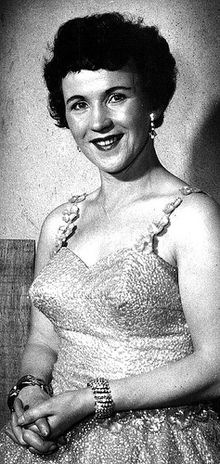 BRIDIE Gallagher, who died yesterday, will be laid to rest in her native Creeslough, her family has said.
The 87-year-old singer was an international star in the 1950s and 1960s and had a career spanning half a century.
Tributes from the world of showbusiness have been pouring in for the superb singer who moved to Belfast in her 20s to further her career.
She went on to record several hit records and do world tours, playing in all the major venues of Sydney, New York and London.
Bridie's granddaughter, Teresa Livingstone, who was involved in making of a UTV programme, explained how her grandmother touched the people who heard her sing.
"The most significant part of the journey for me was meeting with her fans in New York who could recall the details of her performances over 50 years later.
"The stories of Irish immigrants and how important her music had been to so many were quite overwhelming to listen to first-hand.
"I had underestimated the effect she had had on so many people but am grateful for having had the opportunity to find out why she was so successful."
The singer developed serious complications following emergency surgery two weeks ago.
A family statement issued on Monday said she "died peacefully early this morning with her family by her side".
Her funeral will be held in Belfast, and her final resting place will be in Creeslough in her beloved Donegal.
Tags: