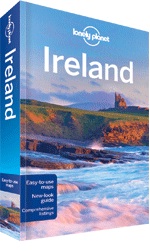 LETTERKENNY Mayor Gerry McMonagle had described as 'confused' a tourist book guide to the town which describes it as both "buzzing" and "soulless."
While many other areas of Co Donegal gets the thumbs up from the latest 'Lonely Planet' guide to Ireland, the biggest town is lambasted…and praised.
Says the guide: "Ruined by the excesses of the Celtic Tiger era, Letterkenny is a market town run amok. Mindless development has resulted in numerous faceless retail parks lining the roads, traffic problems and a complete lack of soul.
"However, as Donegal's largest town, it's buzzing with students and young professionals, and there's a good choice of restaurants and accommodation."
Mayor McMonagle however said the review "doesn't add up."
He told us: "There's many a town in Ireland that would love to have traffic problems!."
He went on: "We except there are issues with planning and traffic and we are doing our best to resolve both but this guide can't say the town is both soulless and buzzing. It doesn't make sense.
"We know tens of thousands of people come to the town every year and thoroughly enjoy everything our historic town has to offer."
Meanwhile many other areas in the county are recommended once again including Malin Head, Slieve League and Dunfanaghy getting the seal of approval.
There's also praise for Glencolmcille, Ardara and many other towns.
It seems our Lonely Planeters had a bad day in traffic in Letterkenny – just like last year (and the year before that).
The book's publishers said its writers spent six months compiling the latest edition.
© 2011 donegaldaily.com, all Rights Reserved
The copying, republication or redistribution of donegaldaily.com Content, including by framing or similar means, is expressly prohibited by law.
Follow us on www.twitter.com/donegaldaily
Follow us on www.facebook.com/donegaldaily
Sell anything on www.donegaldailyclassifieds.com
Tags: