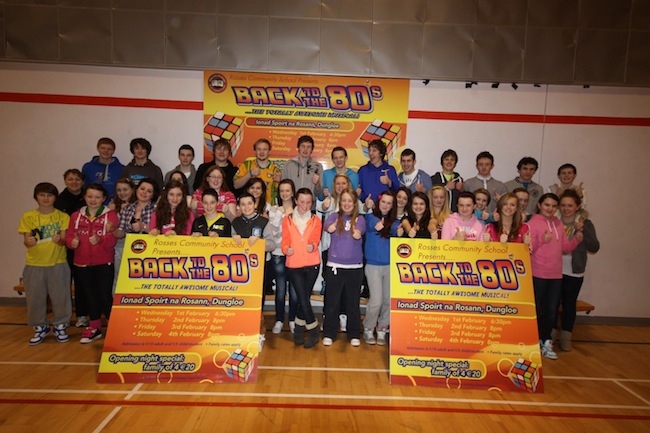 From the era that brought the world The Rubik's Cube, Max Headroom and The Teenage Mutant Ninja Turtles comes this "totally awesome" musical from the Rosses Community School – in the style of movies such as Back to the Future, Ferris Bueller's Day Off and The Karate Kid.
Join the graduating class of William Ocean High School as they live through their final senior year, narrated through the eyes of Corey Senior (Alan Cowley) – as they experience the fun, the heartbreak, the loves and the loneliness of growing up…. all set to the biggest hits of the 80's!!
Following the resounding success of their previous two productions, 'Grease' and 'Hairspray', the students of the Rosses Community School are staging their production of 'Back to the 80's,' the Musical, opening on Wednesday 1st February at 6:30pm and running for a further three nights at the later time of 8pm in Ionad Spoirt na Rosann, Dungloe.
The musical is co-directed by teachers Daire Gillen, Tara Duddy and Suzanne Gallagher from the school with the help of the music teacher Edel McLaughlin as vocal coach.  A 60 strong cast from various year groups as well as members of the local community are all taking part in the production.  The principle roles of unlucky in love teenager, Corey and his love interest Tiffany are being portrayed by fifth years Patrick Gillespie and Zoe Gallagher.
The students first began rehearsing in October last year and since then they have been practising four/five nights a week after school.  'Back to the 80's' promises to be an extremely entertaining show that all the family will enjoy and everyone is welcome to come along.
Tickets can be bought at the door, 10 euro per adult and 5 euro per child with an opening night special of a family of 4 €20.  If anyone would like further information about 'Back to the 80's' please feel free to contact the Rosses Community School on 95 21122.
© 2011 donegaldaily.com, all Rights Reserved
The copying, republication or redistribution of donegaldaily.com Content, including by framing or similar means, is expressly prohibited by law.
Follow us on www.twitter.com/donegaldaily
Follow us on www.facebook.com/donegaldaily
Sell anything on www.donegaldailyclassifieds.com
Tags: