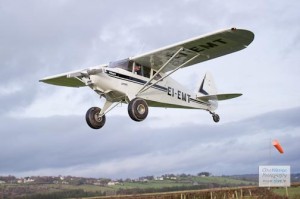 Donegal County Council is backing plans to make a Letterkenny Airstrip one of the busiest in the country.
Stevenson's Airfield has long been touted as becoming a recognised airport.
However the committee who run the airstrip have now abandoned plans to make it a commercial airport.
Instead, after a meeting last week with County Manager Seamus Neely, the airstrip committee are pressing ahead with alternative plans.
The plan will see a major development of the airstrip to accommodate light aircraft from across the country.
County Manager Neely will now sit down with his planners to see what needs to be done to make the airstrip more attractive.
Mac Bowden of Stevenson's Airstrip said he was hugely encouraged by the County Manager's positive attitude towards the project.
"We do not want to turn Stevenson's Airfield into a commercial airport – it's simply not viable.
"But we can put the plans in place to make it an attractive airstrip where planes can come and stay in storage if need be.
"The new County Manager was kind enough to give us a meeting and he was nothing but positive about the project.
"He said he would speak with his planners and come back to us for another meeting.
"He said he will investigate everything he can do for us and we left that meeting with a new sense of optimism," he said.
Well-known pilot Mac added that the development of the airstrip for light aircraft will open up a huge tourism opportunity for Letterkenny and for Donegal.
Follow us on www.twitter.com/donegaldaily
Follow us on www.facebook.com/donegaldaily
Sell anything on www.donegaldailyclassifieds.com
Tags: