A man who butchered and killed a young Letterkenny woman has been released from prison just eight years into his 12 year sentence for another crime.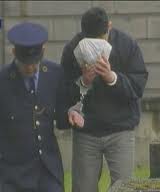 Callous Conor Downey, 47, murdered innocent Suzanne Reddan in a London flat they shared in 1988.
She was not found until 1992 after Downey confessed to police in England that he had strangled her.
Parts of her body were discovered but her torso was never found.
Downey served just three years in jail for the horrific murder of the young Donegal woman.
When he left jail he returned to his native Cork.
In 2004, Downey was then sentenced to 12 years in jail after being found guilty of attempted rape and indecent assault of a young woman.
Just a few months after Downey strangled Suzanne Reddan in 1988, he broke into the Cork woman's home and attacked her as she lay sleeping.
He beat her so savagely that gardaí thought she was wearing a horror mask. He also attempted to rape and sexually assault her.
Downey was never charged with this crime and returned to Cor in the 1990s.
In 2000 however, 11 years after the sexual assault on the Cork woman, he was linked to the crime using fingerprint and DNA samples.
Superintendent Brian Calnan told the Central Criminal Court that Downey was also convicted of assaulting a doctor who had collected blood samples from him.
In January 2004 Mr Justice Kevin O'Higgins jailed Downey for 12 years. He suspended the final year of the sentence.
Downey was released form prison last November and is living in Douglas, Co Cork.
© 2011 donegaldaily.com, all Rights Reserved
The copying, republication or redistribution of donegaldaily.com Content, including by framing or similar means, is expressly prohibited by law.
Follow us on www.twitter.com/donegaldaily
Follow us on www.facebook.com/donegaldaily
Sell anything on www.donegaldailyclassifieds.com
Tags: