A young Donegal Garda screamed in pain for his mother, father and girlfriend just moments after his patrol car was struck at "phenomenal" speed by another car, an inquest heard today.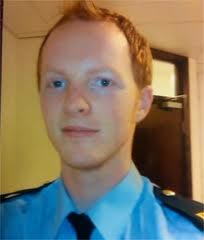 Garda Gary McLoughlin died after suffering multiple injuries as a result of the crash on December 13th, 2009 at Lisfannon, Burt.
The inquest into the 24 year old Garda, from Foxfield, Fenagh, Co Leitrim, heard how he was asked to assist detectives who were pursuing a car during a 30km chase.
Detectives Noel Jones and Bernard Mullins had followed a red Opel Astra after it had sped off from The Grove garage at Bridgend earlier that night.
The Astra, driven by Martin McDermott, had reached speeds of more than 150 KPH as it tried to shake off Gardai.
It travelled to the town of Manorcunningham before travelling back towards Bridgend with the aim of escaping across the border to Derry.
Detectives Jones and Mullins alerted Garda Gary McLoughlin and his partner Garda Bernard McLaughlin that the car was coming their way.
The uniformed Gardai asked if they would deploy the 'stinger' device to stop the speeding car but were told it was too dangerous as the Astra could lose control.
Instead they were instructed just to get the registration number of the speeding car.
Garda Bernard McLaughlin revealed how his partner had slowed down and was traveling on the hard shoulder to get the license plate.
However seconds later McDermott came at them on his wrong side of the road.
"I saw a haze of lights and Gary said "This is him." I studied the car and realised instantly it was travelling towards us at phenomenal speed and I shouted that he was going to hit us. It was like a rocket.
"Gary pulled left hard into the ditch and if he hadn't it would have hit us straight on," he said.
After that Garda Bernard McLaughlin said he awoke to find his partner trapped I the car before he finally came through realising he was in horrific pain.
"He was in a lot of pain and was calling for his mum and dad Noel and Una and his girlfriend Shauna," he said.
Such was the force of the collision that the engine of the Opel Astra was ripped from the car and thrown down the road.
Martin McDermott, now 26, of Castlegrove, Raphoe, was also thrown out of the car and was fond 60 yards down the road by Gardai.
McDermott, who has previously been jailed for eight years for the manslaughter of Garda McLoughlin, was twice over the legal drink-driving limit. He had 91 previous convictions for a range of serious crimes.
Garda McLoughlin was cut from the car and rushed to Letterkenny General Hospital.
He died the following day, December 14th at 2.20am, after suffering two cardiac arrests.
Deputy State Pathologist Dr Michael Curtis said Garda McLaughlin died from multiple injuries as a result of a road traffic accident.
The late Garda's parents Una and Noel, girlfriend Shauna Bradley and extended family were in court for the inquest.
The jury of seven women and two men took just twenty minutes to return a verdict of unlawful killing.
Coroner John Cannon said "The fact clearly demonstrates the heroic deed exemplified by the late Gary McLoughlin killed in the line of duty. The loss of Gary McLoughlin, a young and gallant officer, reminds us of the ultimate sacrifice by Gardai and we are reminded of the burdens and demands placed on Gardai.
"It is therefore that we should appreciate their hazardous task in the protection of our community underpinning the values of our society. "We are indebted to their daily roles. We appreciate the fact that in doing their duty they put themselves in harm's way…all so the public may live in a peaceful environment.
Supt Kevin English said the Gardai in Buncrana and Donegal continue to suffer the loss of Garda Gary McLoughlin.
"Gary wore his uniform with pride and courage. His death was unlawful and totally unnecessary. His spirit is very much alive within the daily lives of the Gardai in Buncrana," he said.
At hearing
© 2011 donegaldaily.com, all Rights Reserved
The copying, republication or redistribution of donegaldaily.com Content, including by framing or similar means, is expressly prohibited by law.
Follow us on www.twitter.com/donegaldaily
Follow us on www.facebook.com/donegaldaily
Sell anything on www.donegaldailyclassifieds.com
Tags: