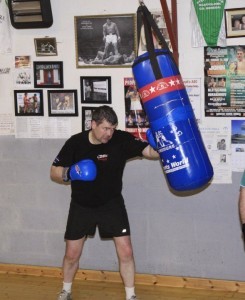 AN OUTDOORS enthusiast has warned that Ireland could be turning into a nanny state – and ban simple outdoor pleasures.
Gus O'Driscoll, who runs the Wet 'N' Wild store in Letterkenny has warned that draft harbour bye laws could be coming to County Donegal.
And he says the new rules about what we can and cannot do along our coasts will be a disaster.
Said an angry Gus (pictured): "Imagine a Taoiseach who would make it a criminal offence to swim off Portnablagh Pier, to take a photograph off Downings Pier, to play children's games or park a car on Magheroarty Pier, to moor a boat in Mevagh, to wash a boat on the slipway in Downings without payment or permission?
"Fact or Fiction? Make up your own mind. I would urge people to check out the attached document "Draft Harbour Bye Laws" (on donegaldaily.com below this article) currently due to be voted on by members of Kerry County Council.
"Apparently some spineless soulless mandarin in the Department of the Marine dreamt up this document and wrung his hands in delight as he tried to decide which was the greater pleasure, criminalising the Irish children of the future for doing what their fathers and forefathers before them had enjoyed for centuries or creating a whole new revenue stream for the present goverment to squander as they have our oil and gas reserves, our national pension fund, our health system?"
Mr O'Driscoll is urging people to read the proposed laws – and fight back.
He told donegaldaily.com: "I would ask people to ask your local county councillor where they stand on this issue before its presented at a Donegal Co Co meeting (as its a Dept of Marine proposal that is to be adopted by all County Councils in Ireland) so they dont have a chance to say "I didn't know" or "I never meant that to happen".
"And while we are at it could Enda Kenny be asked to identify the gormless spineless soulless person in the Department of the Marine that formulated this document so that he could be tried for treason against the Irish people!"
You can read the entire legislation here:
http://www.kerrycoco.ie/en/allservices/roads/draftharbourbye-laws/thefile,5992,en.pdf
WHAT DO YOU THINK? LEAVE YOUR COMMENT BELOW
© 2011 donegaldaily.com, all Rights Reserved
The copying, republication or redistribution of donegaldaily.com Content, including by framing or similar means, is expressly prohibited by law.
Follow us on www.twitter.com/donegaldaily
Follow us on www.facebook.com/donegaldaily
Sell anything on www.donegaldailyclassifieds.com
Tags: