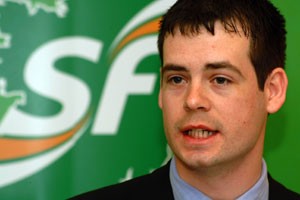 DONEGAL Sinn Fein TD Deputy Pearse Doherty today published his entire expenses, saying every other politician in Dail Eireann should do the same.
Deputy Doherty takes home the average industrial salary of around €540 per week and uses money left from his salary to employ two workers in his constituency.
He has vouched for every euro in expenses and also lists how he used local companies to set up his office after being elected a TD. He even bought second hand furniture on donedeal.ie.
Below is his full expenses and accompanying statement released to donegaldaily.com today. It will be published on his own website pearsedoherty.ie later.
Previously I gave a commitment to publish the amount of money that I receive from the Oireachtas. Today I live up to that pledge by posting here my accounts for 2011.  Some of you will remember that within 100 days off been elected as a TD I produced legislation which if passed would see the amount of money paid to TDs, Senators, minister and ministers of state along with other office holders substantially reduced. That bill is still on the order paper of the Dáil however the government refuse to implement it.
It is my belief that all TDs and Senators should be open with the public as to how much money we receive from the state and for what. From time to time headline figures appear in the media after the media are forced to go through a lengthy and not cost free, freedom of information process. Why should the media or any citizen be forced to do this, what have TDs and other Oireachtas members got to hide?  I am glad that Pádraig Mac Lochlainn is in an advanced stage of prepare his accounts for publication and I challenge all Donegal TDs to follow my lead and publish their accounts.
Only a portion of the money that we receive as a TDs is vouched. (i.e. we need to have receipts for it, but only 10% of TDs per year will ever have to produce the receipt as only 10% are asked for them based on a lottery system.)  This vouched expenditure is primarily to run your constituency offices, host clinics and for advertising purposes. The other payments that TDs get are your wages over  €92,000 per year  which you can do what you want with them and the other payment is for travel, subsistence and accommodation purposes which are not vouched, however if you attend the Dáil less than 120 times in a full year then this payment will be reduced. The other payment is for new TDs and is a one of payment of up to €8,000 to fit out a constituency office or offices and is fully vouched.
Bellow I have set out a number of tables which detail my income and expenditure for 2011.
The first shows the income I have received from the Oireachtas from my wages and from the travel an accommodation payment for the first 6 months of 2011 it also shows how I spent that money.

The second table details the same type of income and expenditure as the first table for the last 6 months of 2011.
You will see from these tables that I personally do not keep all of the wages and expenses that is paid to me. Sinn Fein policy states that our elected representatives will only take home the average industrial wage. So therefore I receive a payment from this account equivalent to the net average industrial wage.
You will also see that the remainder of the funds in the account after my wage and my real expenses are deducted is spent on part time staff wages. This is to individuals that I have personally employed in my constituency offices and pay taxes on their behalf.
One of the people that I employ part time was not in paid employment by me for a portion of the second half of 2011 therefore resulting in lower staff wages costs during that half.
The third table details the vouchable payments that I received and the areas where it was spent.
The forth table details the once of grant that I availed of to set up two constituency offices this is fully vouched and requires you to produce invoices and receipts prior to payment.
The type of work that was required to be done in both offices required plumbing, electrical, plastering and carpentry work all of this was done voluntary and most of the expenditure was on materials for these purposes. You will also see that office furniture was bought second hand from done deal. Both of my constituency offices are privately rented.
I
EXPENDITURE   JAN -JUNE 2011

INCOME   JAN -JUNE 2011 from Oireachtas

Pearse wages

€14,820.00

Wages
Travel & Accomodation
Staff wages (Part time)

€12,237.45

Travel

€5,596.73

Jan

€4,173.49

€3,072.10

Accomodation & Sub

€5,602.85

Feb

€3,366.11

€423.74

I T

€107.80

March

€4,667.74

€2,966.17

bank charges

€97.48

April

€4,245.59

€2,966.17

Donation

€100.00

May

€3,970.08

€2,966.17

Returned to oireachtas

€845.05

June

€3,970.08

€2,966.17

Freedom of info

€40.00

€24,393.09

€15,360.52

TOTAL

€39,447.36

 
 
TOTAL

€39,753.61

EXPENDITURE   JULY – DEC 2011

INCOME   JULY – DEC 2011  from Oireachtas

Pearse wages

€14,250.00

Wages
Travel & Accomodation
Staff wages (Part time)

€11,773.79

Travel

€5,676.94

July

€3,970.08

€2,966.17

Accomodation & Sub

€7,402.79

Aug

€3,970.08

€2,966.17

I T

€50.10

Sept

€3,970.08

€2,966.17

bank charges
Oct

€3,970.08

€2,966.17

Donation

€250.00

Nov

€3,970.08

€2,966.17

Returned to oireachtas
Dec

€3,970.08

€2,966.17

Freedom of info

€23,820.48

€17,797.02

TOTAL

€39,403.62

 
 
TOTAL

€41,617.50

VOUCHED EXPENDITURE

VOUCHED INCOME  from Oireachtas

 O2 Mobile Phone

€1,514.88

March

€2,447.62

 Eircom    (office x 2)

€3,812.08

April

€2,141.68

 Esb         (office x 2)

€1,008.62

May

€2,141.68

 Rent        (office x 2)

€7,000.00

June

€2,141.68

 Cleaner   (office)

€715.02

July

€2,141.68

 Ads

€2,689.40

Aug

€2,141.68

 Room Hire

€176.20

Sept

€2,141.68

 IT      (equip for office)

€3,306.35

Oct

€2,141.68

 Heating   (office)

€600.04

Nov

€2,141.68

 Misc

€497.69

 
Dec

€2,141.68

 Waste (office)

€454.00

TOTAL

€21,722.74

TOTAL

€21,774.28

ONCE OFF  OFFICES SET UP COSTS X 2

ONCE OFF OFFICE SET UP

EXPENDITURE

INCOME

Item

Supplier

Amount

€7,915.90

Computer
Cyberworld

€415.00

Electrical
Cable & Accessories Ireland

€164.37

Hardware
Glenside Buisness Park

€146.00

Hardware
Glenside Buisness Park

€46.30

Plumbing
The Cope

€2,368.46

Painting
Foys

€142.20

Signs
Signworx

€181.50

Signs
Signworx

€70.94

Hardware
Ó Dochartaigh DIY

€104.10

Hardware
Ó Dochartaigh DIY

€27.50

Hardware
Ó Dochartaigh DIY

€1,148.22

Painting
Danny Doogan

€215.35

carpets
Kellys

€645.00

Blinds
Forker's Smart Blinds

€350.00

Blinds
Forker's Smart Blinds

€220.00

Electrical
Mc Cabe Electrical Ltd

€335.96

Furniture
via Done Deal

€900.00

carpets
Kellys

€40.00

Furniture
Dawson Hinds Furniture OFC LTD

€395.00

 

TOTAL

€7,915.90
Tags: