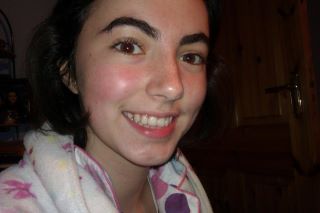 THERE is a deep sense of anguish in Ardara and much further afield with the sad passing of Martina Maguire, the local 16-year-old who passed away today after a brave battle with cancer.
Martina was diagnosed last year with acute lymphoblastic leukemia and was undergoing treatment at Our Lady's Children's Hospital, Crumlin.
Ardara Town – via Facebook – has paid tribute to Martina.
They said: "A terrible shadow was cast over our community with the tragic passing of Martina.
"She was a light and inspiration and her loss cannot be put into words.You have been a joy to everybody who has had the honour to have known you.
"Our deepest condolenses go out to Family,friends and all who were lucky to have passed your way..A sad day for everybody..God bless you."
The brave youngster was a 5th year student at St. Columba's Comprehensive School before she fell ill and even received the best Junior Cert results in her year.
Just a few weeks ago the people of the town came together in a touching displau of community spirit to raise funds for her care.
Martina's brother Michael had worked tirelessly to raise funds and awareness.
After the fundraiser in November he said at the time: "Martina is going through a hard time at the moment and she is just trying to concentrate on getting better. She is really touched with the level of support she is receiving. We'll worry about organising these things so she can just focus on her health. It is great that people will be able to come and enjoy themselves for a good cause."
Donegaldaily.com would like to pass on our condolences to the entire Maguire family circle, friends and entire community in Ardara.
Readers can leave comments below:
Tags: