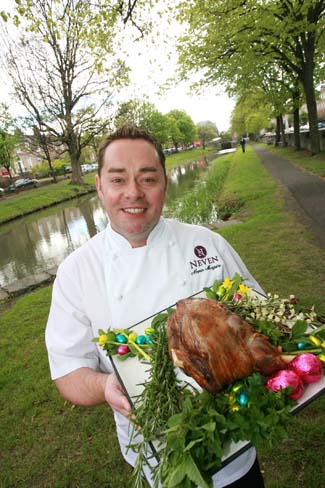 HE'S one of the country's finest chefs – and Neven Maguire has taken a TV opportunity to plug one of Co Donegal's finest products.
Speaking to Brendan O'Connor on RTE1 last night, Neven insisted the only way to cook is with…Donegal rapeseed oil.
"I don't cook with anything else. It has a fantastic nutty taste and it's great for salads and marinades," the chef told O'Connor.
"When you cook with it it doesn't smoke like vegetable or other oils, it gives a great even heat. It really is a fantastic local product and I'd highly recommend it to everyone."
He said people should shop around to find it.
The celebrity chef has endorsed the oil for cooking many times before – but a plug on national telly will give it another boost.
Donegal Rapeseed Oil Co. is located in Raphoe.
It is a small, locally owned and operated company in Donegal.
Their crops are grown by specially selected, individual, small farm holdings dispersed throughout the county.
A previous article can be seen here:
https://www.donegaldaily.com/2011/03/14/raphoe-cooking-oil-is-proving-hot-stuff/

© 2011 donegaldaily.com, all Rights Reserved
The copying, republication or redistribution of donegaldaily.com Content, including by framing or similar means, is expressly prohibited by law.
Follow us on www.twitter.com/donegaldaily
Follow us on www.facebook.com/donegaldaily
Sell anything on www.donegaldailyclassifieds.com
Tags: