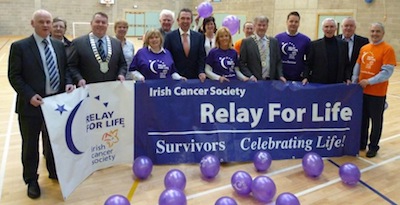 Would you like to help celebrate those who have battled and overcome cancer in Donegal?
Or would you like to remember those who lost their battle with cancer and raise money for the fight against cancer in Ireland?
Well now you can! Donegal will host its first ever Relay For Life on the 26th & 27th May, 2012 and organisers need your help!
The group is looking for people who would like to participate as part of a relay team, as a volunteer or carer at the event, and survivors of cancer to walk the survivors' lap that opens every Relay For Life event throughout the country.
Relay For Life is a 24-hour walking relay that takes place throughout Ireland to raise vital funds in support the fantastic work of the Irish Cancer Society. At the heart of each event, teams of families, friends, neighbours and colleagues come together in groups and commit to keeping participants walking around a track or path for 24 hours. A host of other activities will take place throughout the 24 hours to create a wonderfully festive atmosphere.
Anne Condon, PRO of the Donegal Committee speaking this week states: "We are delighted to bring Relay For Life to Donegal this year. It is a wonderful and life-changing event carried out not only in Ireland but across the globe, bringing communities worldwide together to fight back against cancer, to support those who face cancer and to remember loved ones lost"
"I feel this event will be warmly welcomed in Donegal, a very close knit and supportive community. We would like to invite all those interested in participating in the Relay For Life in any way to come along to our public meeting in the Mount Errigal Hotel, January 23rd at 8pm"
Cancer can leave a lot of pain and heartache in its wake. But it can also inspire people to come together and do some wonderful things. Relay For Life events are organised entirely by communities so that those lost to cancer will never be forgotten, that those who face cancer will be supported, and in the hope that one day cancer will be eliminated.
With your help, we hope to bring Relay For Life to Donegal this year and help raise funds to fight against cancer. Please circulate this information to your friends, work colleagues, and family, to encourage all to attend the Public Meeting tonight (MON) in the Mount Errigal Hotel at 8pm.
For more information follow Relay For Life Donegal on Facebook
Tags: