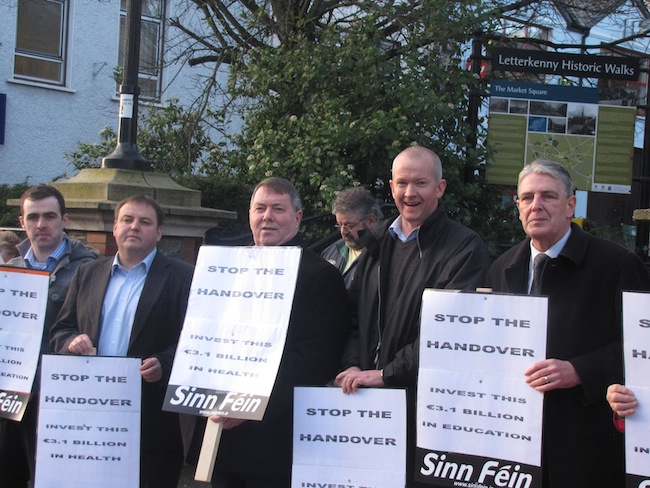 Sinn Féin activists from across Donegal gathered in Letterkenny today to picket in protest as the government plans to hand another €1.2bn to unsecured & unguaranteed bondholders in Anglo Irish Bank.
Speaking after the protest Deputy Pádraig Mac Lochlainn said: "Sinn Féin activists gathered today to demonstrate against the latest bailout of wealthy gamblers in Europe. Over €1,200,000,000 will needlessly be handed over to bondholders in the toxic Anglo Irish Bank. The government is not required to hand over one cent of this money but they are intent on doing so and asking ordinary Irish people to pick up the tab.
"The Irish people are sick of unjust cuts and austerity combined with government lies which purport that new charges such as the household tax are necessary to provide services.
"Thousands of people in Donegal have been protesting and attending public meetings in recent months to voice their anger at what is happening.
"The reality is that the government is taxing the most vulnerable in order to pump money into a black hole in the banking sector.
"Our grandchildren will be paying for the actions of reckless gamblers in Europe for decades to come.
"The Irish people voted for change in the last general election. The government needs deliver this change and put the needs of the Irish people ahead of the greed of wealthy bondholders in Europe."
LEAVE YOUR COMMENT BELOW
© 2011 donegaldaily.com, all Rights Reserved
The copying, republication or redistribution of donegaldaily.com Content, including by framing or similar means, is expressly prohibited by law.
Follow us on www.twitter.com/donegaldaily
Follow us on www.facebook.com/donegaldaily
Sell anything on www.donegaldailyclassifieds.com
Tags: