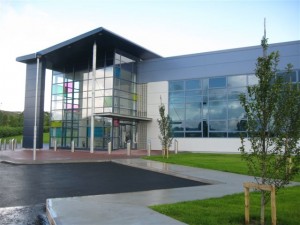 The IDA didn't create a single new job in new companies in Co Donegal last year.
Donegal North East Fianna Fáil TD Charlie McConalogue has said that IDA figures confirmed to him by the Minister for Jobs Richard Bruton clearly reinforce the need for a greater effort to attract foreign direct investment to the North West.
Deputy McConalogue was commenting following confirmation that none of the new IDA client firms that invested in Ireland for the first time in 2011 were located in the North West region.
Our picture shows one empty unit in Letterkenny.
"While I very much welcome the fact that 61 new IDA client firms invested in Ireland last year, it is a great disappointment that not one of these was located in the North West," he said today.
"This clearly demonstrated the need for a greater focus on this region and reinforces the importance of having the North West Regional Manager based in Letterkenny.  I believe that this is particularly relevant given Letterkenny's status as one of the 9 Gateway towns as designated in the National Spacial Strategy.
"There are 12 IDA companies in Donegal employing 1,870 people.  Between them they created 249 jobs in 2011. This is particularly strong growth in the current climate. The strong performance of existing IDA client companies in Donegal proves the value of this sector to the local and wider economy.
"These firms continue to do well and provide sustainable employment.  Their success shows that it is not only possible to do business in the North West, but it is also attractive for investors."
The TD added: "I am again appealing to the Minister for Jobs Richard Bruton to take an active role in ensuring that every effort is made to attract more client companies into the North West."
More than 245 jobs were created in current IDA-supported companies in the county.
LEAVE YOUR COMMENT BELOW
© 2011 donegaldaily.com, all Rights Reserved
The copying, republication or redistribution of donegaldaily.com Content, including by framing or similar means, is expressly prohibited by law.
Follow us on www.twitter.com/donegaldaily
Follow us on www.facebook.com/donegaldaily
Sell anything on www.donegaldailyclassifieds.com