A bus driver has been sentenced to life in prison at the Special Criminal Court for the murder of a 27-year-old man in a dissident republican attack in Donegal.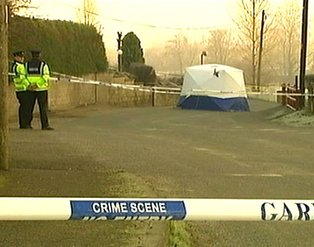 Martin Kelly, 37, from Strabane, drove Andrew Burns to a church in Donnyloop in February 2008 where he was shot dead.
Kelly was also sentenced to eight years in prison for possession of a firearm.
Mr Justice Paul Butler said the court had no discretion on the murder charge.
The family of the 27-year-old painter and decorator left the court this afternoon after telling the three judges of the indescribable pain, grief and trauma they are still suffering four years after the murder of their brother and son.
Mr Burns was involved with the dissident republican group Óglaigh na hÉireann, as was Martin Kelly.
Kelly was told to bring Burns from his home in Strabane to Donnyloop in Donegal for a punishment shooting.
He drove him to the church car park where three men were waiting in a hedge.
A gunman fired at Burns, he ran but a second shot killed him. All three got into Kelly's car and he drove them back across the border, stopping to hide the gun in a hedge.
Kelly was interviewed by officers from the gardaí and the PSNI at a hotel in the North where he admitted what he had done.
He also named the others involved and his life is now in danger.
He was sentenced today to life in prison.
Tags: