Donegal North TD Charlie McConalogue has accused the Government of pushing through the Septic Tank Bill without answering the most basic questions about it.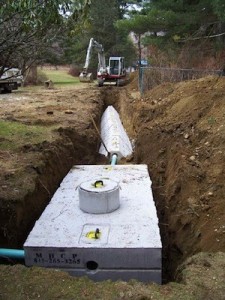 The Inishowen Deputy hit out at what he said was the highly undemocratic approach the Government has taken without even explaining how much it will end up costing septic tank owners.
He fumed "This highly controversial Bill, that amounts to an attack on rural communities around the country, now looks like it will soon be a reality.
"The Government's approach to this legislation has been disgraceful. They have attempted to excuse their efforts to rush throught this legislation by falsely claiming that Ireland would incur fines of €26,000 a day from February 3rd if the legislation is not passed before then.
"Fianna Fáil got confirmation at the highest level in the European Commission that this is not true. The European Court will not make its ruling on this issue until at least the Summer, so fines are not possible before then," he said.
He said it is outrageous that Environment Minister Phil Hogan and his colleagues have attempted to mislead the public on this legislation, stifle and debate and continue to refuse to answer any questions about inspection standards under this Bill and resulting costs for rural dwellers.
"Fianna Fáil has always supported the need to adhere to the European Court ruling and ensure that private waste water systems around the country are safe. What we strongly object to is this Government's moves to push the entire cost of registration and upgrades onto septic tank owners, when the cost of upgrading urban sewerage schemes are paid for by the State.
"This Government treatment of rural dwellers is deeply disappointing and it raises further questions about an anti-rural agenda from Fine Gael and Labour."
Tags: