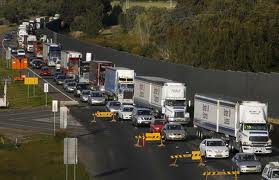 DONEGAL protestors behind a co-ordinated plan to tackle the Government over rising taxes have named the date for bringing Dublin to a standstill – Wednesday, February 22.
Lorry drivers from the county will join other hauliers from around the 26 counties to converge on the capital, with a plan to block all roads around the city by 8am.
Already Garda HQ is planning to draw up contingency plans in a bid to prevent the blockade from going ahead.
Inishowen man Ryan Stewart, a spokesman for the 'Enough Is Enough' campaign told donegaldaily.com: " I can confirm a massive protest coming to Dublin on the 22nd February 2012 with full support of the Road Haulage Association.
"The capital will be brought to a standstill, and this is an opportunity for everyone to be part of something immense, but the truckers cannot speak for all of us.
"We want groups across the country to unite and show this government that enough is enough. If you cannot make it to the capital, protest at government offices in your own county, and show your solidarity.
"Time to get the message through – austerity is only for the poor, enough is enough, we cannot sit back and take this any longer. Please share this event, and invite all of your friends through facebook to attend."
LEAVE YOUR COMMENT BELOW
© 2011 donegaldaily.com, all Rights Reserved
The copying, republication or redistribution of donegaldaily.com Content, including by framing or similar means, is expressly prohibited by law.
Follow us on www.twitter.com/donegaldaily
Follow us on www.facebook.com/donegaldaily
Sell anything on www.donegaldailyclassifieds.com
Tags: