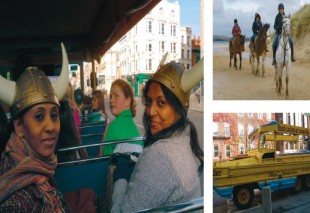 WEALTHY Arabs from the Middle East could be about to make Co Donegal their holiday destination this summer, thanks to an initiative by Failte Ireland.
The tourism body is often criticised for failing to promote the North West.
But it has been revealed the county was included in a special trip laid on for travel agents from the wealthy gulf state of the United Arab Emirates.
And in their report on that trip, the agents said their day in Dunfanaghy was the highlight, beating off the rest of their tour which included Belfast, Dublin and Kildare.
The group included Raed El Hajj, Abu Dhabi Travel Bureau; Angela Gomes, Omeir Travel; Javier Otero Salgado, Destinations of the World; Chester Pollocks, Mannai Holidays; Karla Galicia, Salem Holidays and Salma Mohamed Zein, Etihad Holidays.
The agents flew to Dublin direct from Abu Dhabi via Etihad Airways which now has a scheduled service.
Day three saw the group depart for Dunfanaghy where the agents checked in at Arnolds Hotel.
They all agreed this was the highlight of the trip. "The highlight was the horse riding and mountain climbing in County Donegal," said Angela Gomes from Omeir Holidays. "It's a beautiful place; the landscapes are breathtaking."
Each of the travel agents, who will now sell holidays to Ireland to their clients, said Donegal was the highlight.
And each has given a review, which you can read here:
http://www.hoteliermiddleeast.com/13330-call-of-the-wild-in-ireland/
Tags: