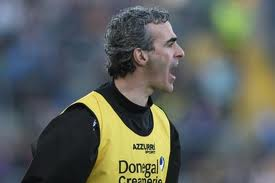 DONEGAL Senior Football manager Jim McGuinness has accused elements of the Dublin media of launching a 'witch hunt' against him and his players – and also revealed that the door wasn't closed on a return for Gaoth Dobhair man Kevin Cassidy.
Speaking at the launch of the Allianz Football League, Jim said his defence of Ryan Bradley after the victory in the first Championship game against Antrim last season had started a media campaign against Donegal.
RTÉ pundits on the Sunday Game had said Ryan didn't deserve the award.
"I think from the moment I stood up for Ryan Bradley that there was a media witch-hunt for myself personally and for the team. Some of the things that were said about the team – they were called the Taliban at one stage – was extremely disrespectful," said Jim.
"These boys, a lot of them not in work, are training and training for the good of their county. I'm an unpaid volunteer, if I told you what I was getting for my expenses for the year you wouldn't believe it. I'm getting nothing out of the game only the love of coaching the boys.
"At the end of the day it's not that important. We don't want to be going to war with people but there's boundaries and there's respect. There was always boundaries in the GAA but now it seems some people feel they can overstep those boundaries.
"A lot of the time it's ex-players, who are making an awful lot of money on the back of people who are out of work and trying their best for their county in a voluntary capacity. Morally, I don't think that's correct."
McGuinness admitted tactics against Dublin in the All-Ireland semi-final were 'extreme' but he had no real regrets.
"The only regret I have is that, about three weeks out from the game, what we were getting through the middle was very exciting," he said.
"We were playing Michael Murphy out the field and he was strong, he was powerful, Christy Toye was coming back to himself and we had Ryan Bradley – we had a lot of strong, big men with power and pace and we were practising the game plan, the ability to turn the ball, work it, hand it to them and then drive through and ask the question.
"The only disappointing thing about it was that we didn't get enough of that over the course of the 70 minutes. If we continued to do that and done the job defensively and continued to be explosive and dynamic then we could have gone on to win that game easily.
"I have my own conclusions in my head . For some of them it was psychological, for some of them . . . I think they regressed into themselves over the course of the game. The closer they got to the All-Ireland final, then the more they just wanted to see it out instead of driving towards it. That is a learning curve if that is the case. They can use that this year if they get into that position again."
Asked about dropping Kevin Cassidy for breaking team rules by co-operating with a book written about last year's championship, McGuinness appeared to leave the door open for a return by referring to other players who had done the same.
"Adrian Hanlon had to go last year for an incident and we talked about it, same as the other incident [Cassidy]. It was dealt with at the time and he's back in now," said Jim.
Asked did this mean that Cassidy could return to the panel, McGuinness replied: "The same criteria apply. Eamonn McGee was another situation.
"I wouldn't close the door, but the bottom line is, our rules and our parameters were very well defined and what happened was so far over the line in relation to our group . . . that's all I can say on it. I'm not going to go any further on that. I said I wouldn't speak about it and I'm not going to say any more about it. I'm not going to be drawn on it."
LEAVE YOUR COMMENT BELOW
© 2011 donegaldaily.com, all Rights Reserved
The copying, republication or redistribution of donegaldaily.com Content, including by framing or similar means, is expressly prohibited by law.
Follow us on www.twitter.com/donegaldaily
Follow us on www.facebook.com/donegaldaily
Sell anything on www.donegaldailyclassifieds.com
Tags: