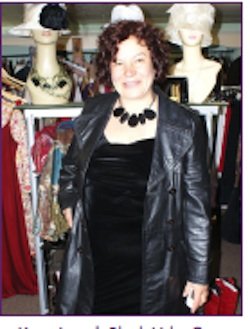 DD EXCLUSIVE: THIS is the first picture of the Polish woman at the centre of wrong claims this week – Gaia Kowalik.
The 38-year-old, originally from Gdansk in Poland, now lives in Dunfanaghy.
Known until now by the name 'Magda' she has been unemployed for the past two years and is hoping to start a new massage business in the seaside town.
Ms Kowalik is pictured doing a fashion shoot for the popular Dunfanaghy magazine D2D.
It's understood she plans to fly abroad later today to get away from the growing media storm after an interview she gave to a Polish newspaper last month was mistranslated earlier this week.
One friend told donegaldaily.com: "She has booked a week away in the sun and is flying out today (Saturday) for a week to get away from it all."
Said Gaia of her ordeal: "At first I was completely shocked. You don't know what to think. How is it possible for anybody to publish something that is just not true, completely not true and it's not just misinterpretation, you know, or mistranslation – it's just a completely different story."
She said things had been added to even the Polish version of the story but said most of it was about her actual life in a town near Letterkenny in Donegal.
"The thing is that jobs are scarce here. It is difficult, especially as I don't drive so I can't go to bigger towns.
"The other thing is that I worked in the hospitality industry and qualified as massage therapist and that's something I wanted to do for a really long time and I decided that's an option to start my own business, to do what I really want to do."
Gaia said that she has done a number of FÁS courses to help her set up her own business which she hopes to set up by Easter.
Of her actual lifestyle on the dole she added: "My needs are not very high. That is in the article, I really try to live as cheap as possible. I don't spend money on clothes, cosmetics, going out to the pub.
"I don't have money for that. I have money for basic survival and that's okay with me."
Meanwhile the Poland-based Irish journalist who filed the controversial mistranslation of the story to the Irish Independent has apologised.
Norma Costelloe wrote on her blog: "The quotes I used were inaccurate. I apologise to anyone I have hurt or upset or anyone suffering from the fallout of a story never intended to inspire racism. I have spent years traveling abroad and living in different countries and have experienced racism myself."
LEAVE YOUR COMMENT BELOW
© 2011 donegaldaily.com, all Rights Reserved
The copying, republication or redistribution of donegaldaily.com Content, including by framing or similar means, is expressly prohibited by law.
Follow us on www.twitter.com/donegaldaily
Follow us on www.facebook.com/donegaldaily
Sell anything on www.donegaldailyclassifieds.com
Tags: